A new report details an Iranian teen's rare tumor, which made it look as if hair was growing out of his eyeball.
Researchers published details of the case Wednesday in the New England Journal of Medicine. Doctors Ali Mahdavi Fard and Leili Pourafkari from the Tabriz University of Medical Sciences, in Tabriz, Iran, authored the report.
Scroll down to see a photo of the eyeball. Warning: The image may be considered graphic to some people.
From the journal:
A 19-year-old man presented to our ophthalmology clinic with a mass in his right eye that had been present since birth but had gradually increased in size. He did not have pain, but the mass caused vision defects, mild discomfort on blinking, and the intermittent sensation of the presence of a foreign body.
The mass was actually a tumor, called a limbal dermoid, My Health News Daily reports, and the man underwent surgery to have it excised for mostly "cosmetic reasons."
Clinical features of the limbal dermoid include "pale yellowish solid mass lesions, which frequently contain hair shafts," as well as "cellular elements from ectodermal and mesodermal origin such as hair follicles, sebaceous and sweat glands, ectopic lacrimal gland and cartilage," according to the Edward S. Harkness Eye Institute at Columbia University.
Dr. Mark Fromer, director of Fromer Eye Centers in New York City, told My Health News Daily that an eye doctor may only see one or two cases of the special tumors over the course of his or her career.
Fromer currently has a female patient with a hairy tumor but said it does not bother her and she does not want it removed.
PHOTO: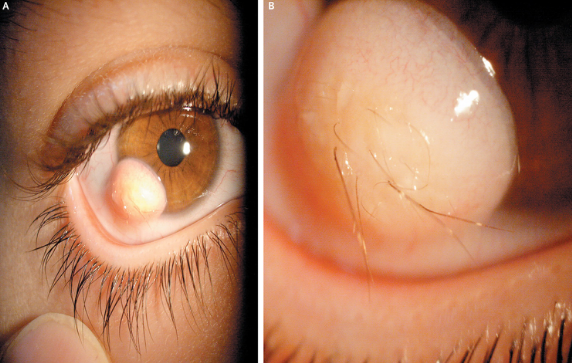 Credit: The New England Journal of Medicine ©2013.