How much would you pay for a scrap of old tape allegedly used by Marina Abramovic?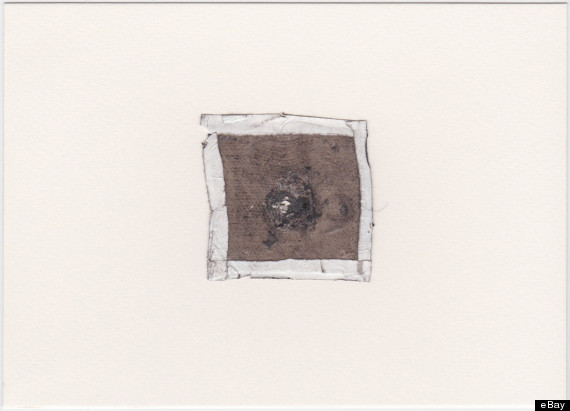 If you said over $200, then you must currently be in a bidding war on eBay, vying for a glorified piece of trash from Abramovic's "The Artist is Present" exhibition. We love the "Grandmother of Performance Art" just as much as the next person, but hundreds of dollars? Really?
Here's the auction item's illustrious description, written by the tape's current owner:
"In 2010, for 736.5 hours, the artist Marina Abramovic sat in a chair. Across from her was another chair. Underneath these chairs were a total of eight "spike marks" taped to the ground, to ensure their proper installation, presumably. In the fray of the end of the performance, security guards cleared the two chairs as the audience converged in the center of the atrium at MoMA. I happened to be in the right place at the right time that day, and carefully peeled one of the marks off the ground. Later, I attached it (with its own stickiness) to a piece of paper and titled, signed and dated the back."
Last we checked, the relic is priced at $242.50 with 20 hours to go.
What do you think, readers? Are you sold?
PHOTO GALLERY
The Weirdest Items at Auction in 2012
BEFORE YOU GO