With the Bears missing out on a playoff berth this season, the city of Chicago is putting the team's home turf at Soldier Field to use as a temporary—and free—ice skating rink.
For two days, on Feb. 2 and 18, Soldier Field will open for twelve hours of free skating as part of the Office Max Winter Classic, the Tribune reports, while a third day will be exclusively for college hockey matchups.
To gain entry to Soldier Field's free ice rink, attendees will need to snag a free pass and select which day they wish to attend. NBC Chicago reports eight Office Max locations around the area—including Chicago, Gurnee, Aurora and Crestwood—will give away the 3,000 passes beginning at 10 a.m. Sunday Jan. 6. on a first-come first-served basis.
(See the full list of Chicagoland Office Max locations giving away free passes.)
February marks the first time since the 1930s the 61,500 person capacity venue has hosted a public skating event, reports RedEye. Through the years, Soldier Field has been no stranger to non skating-related spectacles, which have included flame throwing, ice fishing and even a circus.
The craziest event, however, has got to be this 1954 endeavor, aptly captioned in photo blog Calumet 412 with "This Is The Most Dangerous Sporting Event Ever Held In Soldier Field."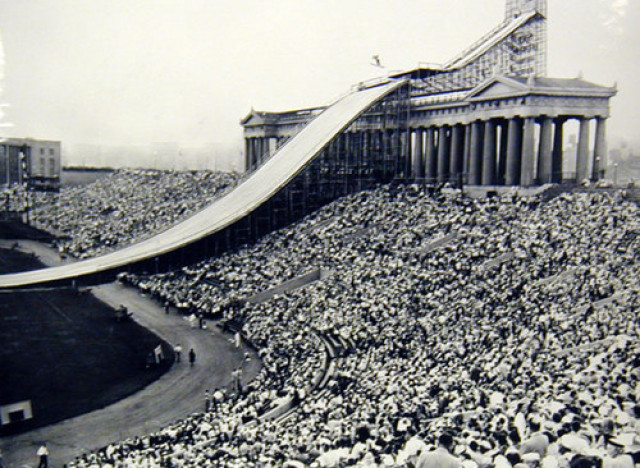 Ski Jumping At Soldier Field, 1954. via Calumet412
Office Max Winter Classic Schedule:
Feb 2: Free skating 9 a.m. to 9 p.m. (passes required, passes do not include skates or parking)
Feb 18: Free skating 9 a.m. to 9 p.m. (passes required, passes do not include skates or parking)
Feb. 17: Hockey City Classic - Notre Dame v Miami University (12 p.m.) and Minnesota vs. Wisconsin (3:30 p.m.)