This football player's anti-fur statement is as impressive as his rock hard abs.
Former New England Patriot Safety (and brand new New York Jet Safety) Bret Lockett is very buff -- and very naked -- in an ad that puts his chiseled physique to work in the struggle to end the fur trade.
NSFW! New England @patriots' @bretlockett26 goes NUDE 4 @peta! And yes, football is SYNTHETIC leather #Obviously PHOTO: peta.vg/91

— PETA (@peta) December 28, 2012
The NFL star, who began his professional career with the Cleveland Browns in 2009, is the latest athlete to pose for the animal rights group's "Ink, Not Mink" campaign.
WARNING: NSFW PHOTO AND GRAPHIC VIDEO BELOW
In a behind-the-scenes video of the photo shoot, released by PETA, Lockett said he joined the campaign after watching gruesome footage of animals skinned alive for coats.
"What really hurt me was when I saw that an animal was still able to move and lift its head up after it was completely skinned," Lockett said. "It brought tears to my eyes."
Buffalo Bills standout Shawne Merriman has also joined PETA's campaign, and is featured in his own ad.
"Shawne Merriman is a tough opponent on the field, but it's as plain as the words on his chest that he has a heart of gold for animals," PETA Senior Vice President Lisa Lange said in a press release. "Football's a rough sport, but as PETA's undercover videos show, it has nothing on the violence of the fur industry."
BEFORE YOU GO
Scroll down for video.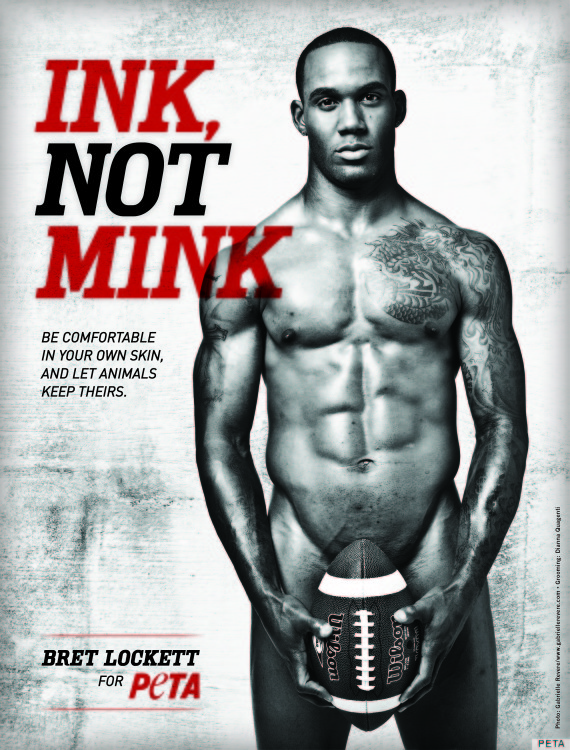 RELATED ON HUFFPOST:
PHOTO GALLERY
Explicit PETA Ads