LAS VEGAS -- This is what happens when 2012's biggest technology conference (CES) meets its biggest college football game (BCS), and when some of the world's biggest nerds get together to watch sports.
ESPN is hosting a private party in Las Vegas on Monday night to showcase the clash between Notre Dame and Alabama, on what is surely one of the most massive and envy-inducing displays in the country: A high-definition 3D feed, projected onto an enormous screen that is 55 feet across and 25.56 feet high. The screen is housed in the LVH Theater, a cavernous room with stadium seating that will host hundreds of representatives from technology companies, agencies, advertisers, manufacturers and distributors.
Here is the view from the balcony, a few hours before kickoff, with what is a final score presumably invented by some jokers at the ESPN production truck in Florida: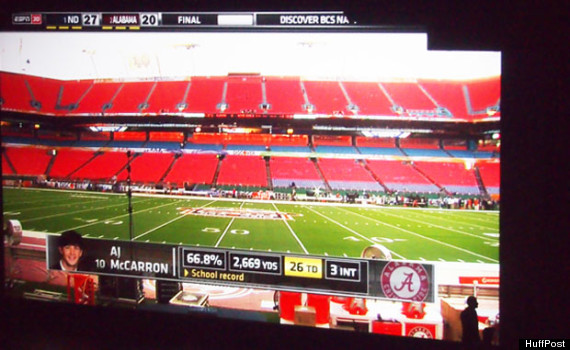 For ESPN, it is a chance to show off its ESPN 3D technology to some major players in the 3D television market, which has not yet caught on with home viewers in large numbers. According to an Associated Press report from September, 3D viewership in the United States "is so tiny that The Nielsen Company's methods are unable to capture any meaningful data about viewers' programming preferences."
3D television's slow start doesn't seem to concern Bryan Burns, ESPN's Vice President of Strategic Business Planning, who has overseen ESPN's 3D efforts since its launch in 2010. He told The Huffington Post in an interview that ESPN is still expanding the service to more cable companies and that its rollout is, by the measure of availability, moving faster than that of high-definition channels over a decade ago. And like HD, Burns says, 3D is the kind of technology you can only really appreciate once you see it.
"Sports in 3D can be absolutely jaw-dropping," Burns said. "New technology can sometimes lead with sports ... and make its way to more episodic television. This is another chapter of that tonight."
As proof of the technology's visual appeal, Burns ran down the reactions he's witnessed from first-time viewers of ESPN 3D -- "Holy shit" is one of the most common, he said -- and also the praise it's garnered from college coaches Jim Calhoun ("I've never seen a reach-in foul on TV before") and Lou Holtz ("Interior line coaches are gonna love this"). Still, he acknowledged the growing reality that 3D TVs have thus far not enticed shoppers the way many had thought they would, and that the strategy in selling those TVs seems to be shifting.
"What we thought three years ago is that people would go into a store to buy a 3D TV," Burns conceded. "What we found instead is that people wanted a really good HD TV that happened to also have 3D in it."
As though to corroborate that theory, television makers at CES have thus far emphasized the HD side of things over the 3D side. The big buzzword from TV manufacturers like Sharp, Samsung and LG has been Ultra HD -- which refers to an incredibly high pixel count, making for a lifelike picture on screen. Manufacturers have only touted three-dimensional capability in passing, meanwhile, while in previous years it might have been a marquee feature.
Say you make TVs. Are you pushing 4K because you've forgotten about the horrible failure of 3D? Or because you remember the success of HDTV?

— Farhad Manjoo (@fmanjoo) January 7, 2013
Still, speaking with Burns and other 3D manufacturers, there is a belief that 3D's time just hasn't come yet, and that when all Americans are able to view 3D in all of its grand glory -- as a select portion of the technorati will during Monday night's BCS championship game -- the still-emerging technology will become a must-have feature. For this game, however, it will be mostly the early-adopters and the geeks who will be watching in three dimensions.
"Will 3D get past the nerdiness?" Burns asked rhetorically. "Can we take this technology and make it into a product that consumers want to see?"
In the LVH Theater, in the shadows of ESPN's enormous display and with 3D glasses on his nose, Burns smiled.
"That is the question."