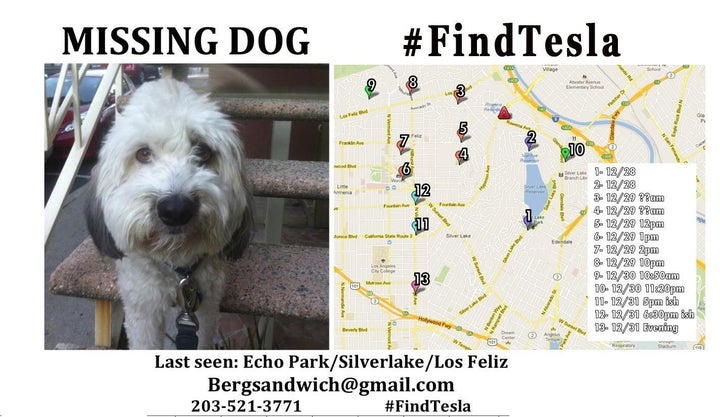 A social media campaign for a missing dog in Los Angeles went viral recently, as many residents of the city banded together in search of the lost pet.
According to reports, Tesla the dog first went missing in late December while her owner Alex Berg was in Connecticut visiting family.
Tesla, LAist reports, had "slipped through the fingers of a dog walker and bolted from [Berg's] Silver Lake apartment." After hearing the bad news, Berg, the artistic director of the Upright Citizens Brigade comedy theater in Hollywood, immediately took to the Interwebs in an attempt to find his missing pet. He emailed friends, posted a notice on Facebook and tweeted out a photograph of Tesla, a white poodle mix Berg described as "shy."
Though hopeful that his friends would be able to lend a hand in his hunt, Berg had no idea that his online search for Tesla would soon reach epic proportions, impacting strangers across L.A. and netizens around the country.
"From the beginning, the response has been overwhelming," Berg told LAist last week.
By the time he returned to the city, Berg's search for his dog had gone viral. The hashtag #FindTesla began making its rounds on the Twitterverse; a Facebook page had been set up, and more than a hundred people -- many of them strangers -- had volunteered to search for the dog on the streets. Even celebrities like singer Ryan Adams, TV journalist Rich Eisen and actor Jerry Ferrara got involved in the search, re-tweeting Berg's message about Tesla to their followers. One Good Samaritan, 29-year-old John Roiniotis, reportedly drove around the city "for several days" looking for the fluffy animal, tracking his progress on a map app on his phone and sending the information to Berg, who had reportedly turned his apartment into the search team's 24-hour headquarters.
"Strangers combed the streets for Tesla," the Los Angeles Times reports, "pursuing leads that [she'd] been seen outside a 7-Eleven or wandering along Hillhurst Avenue. A group that billed itself as the 'dawn guard' pulled early morning search shifts."
How detailed are everyone's fantasies about being the hero that actually finds Tesla? Mine is very. #FindTesla

— Tim Neenan (@TimNeenan) January 1, 2013
Sadly, despite the efforts of many, the search for Tesla ended when she was found dead a few days ago. Details of her passing have not been revealed.
Though many now mourn the loss of the adorable pup, those involved in the hunt for Tesla agree that the search was not in vain.
"It's so sad, but the effect of it is so heartwarming," Drew DiFonzo Marks, a friend of Berg's who was involved in the search, told the Los Angeles Times. "Tesla kind of becomes a symbol for something better now."
In the wake of the pup's death, actress Fiona Landers, a friend of Berg's, wrote an ode to Tesla on her blog on Sunday:
Tesla, the dog that launched a thousand ships, that sent hopeful, loving, comedy nerds and big-hearted strangers into the night, into the early dawn, into Echo Park alleys, Los Feliz hills, and Silverlake streets all in the name of kindness and community. Tesla, who owned Twitter for a week...[and] who inspired us to hunt whole-heartedly, together.

It was so amazing, and beautiful to watch and work with my heroic friends, to see so many people drop everything to go search for a sweet mutt of an angel.
BEFORE YOU GO