Secretary of State Hillary Clinton was back at work on Monday after an extended hiatus due to health concerns, most recently marked by her hospitalization for a brain clot that formed in her head after a December concussion.
The Associated Press reports that her return was received with much fanfare:
A crowd of about 75 State Department officials greeted Clinton with a standing ovation as she walked in to the first senior staff meeting she has convened since early December, according to those present. Deputy Secretary of State Thomas Nides, noting that life in Washington is often a "contact sport, sometimes even in your own home" then presented Clinton with a gift – a regulation white Riddell football helmet emblazoned with the State Department seal, officials said.

She was also given a blue football jersey with "Clinton" and the number 112 – the record-breaking number of countries she has visited since becoming secretary of state – printed on the back. Aides said Clinton was delighted with the gifts but did not try either of them on and the meeting turned to matters of national security and diplomacy.
Here's Clinton receiving her helmet, because everyone knows those are great at preventing concussions: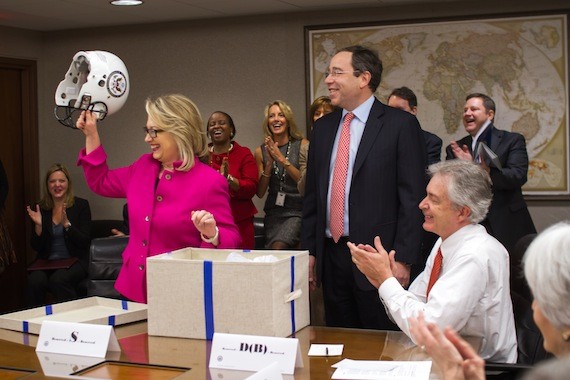 (AP Photo/State Department)
And Clinton with her new jersey: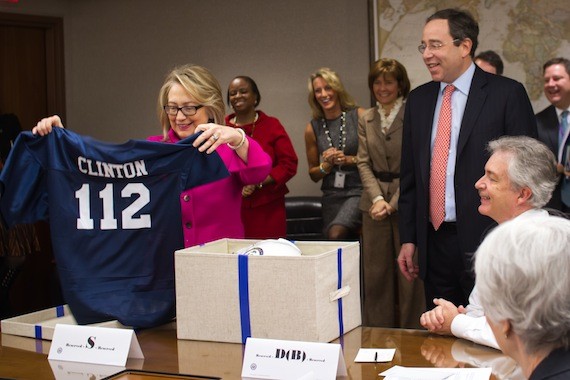 (AP Photo/State Department)
BEFORE YOU GO
PHOTO GALLERY
Which Women Might Run In 2016?