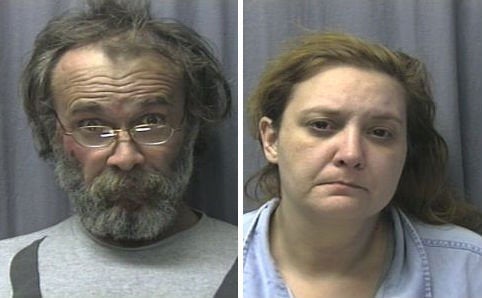 ProTip: If you're going to be driving a meth lab around, don't do it while intoxicated.
A pair of Arkansas residents on Saturday were pulled over in Burns, Ore., after their commercial flatbed truck was reported driving recklessly on a state highway.
During the traffic stop, police determined that the driver of the truck, Stephen Smith, 46, was intoxicated. According to KVAL, officers later searched the contents of the truck and found a "small, dismantled methamphetamine lab inside of a box."
Police arrested Smith for DUI and the manufacture of methamphetamine. His passenger, Bridget Golding, 39, was arrested on the latter charge as well.
According to Oregon Live, drug enforcement agents on Sunday obtained a search warrant and seized the drug lab and a small amount of meth from inside the truck as evidence.
The cleanup of clandestine drug labs is a focus of law enforcement in Oregon. Data from the state's Narcotics Enforcement Association and the Oregon State Police compiled by the non-profit Oregon Alliance for Drug Endangered Children shows a marked decline in methamphetamine lab incidents since laws restricting access to pseudoephedrine products, a key ingredient in the manufacture of the drug, were enacted in 2004.
According to the State of Oregon's official website, "Meth labs can be set up nearly anywhere, including motel rooms, apartments, rental properties, storage units, RVs, sheds, garages, vacant buildings, and campgrounds."
In December, a pair of suspects were arrested in Arkansas after implements commonly used in making methamphetamine were discovered in their car during a routine traffic stop.
PHOTO GALLERY
Mobile Meth Lab