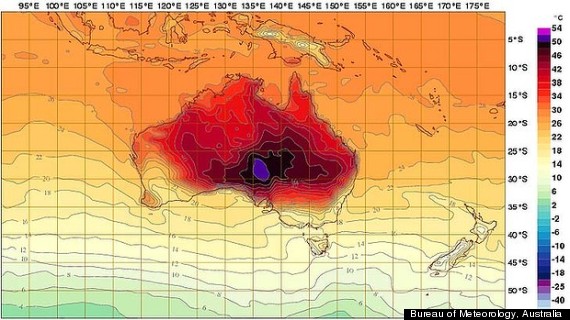 Right now, things are pretty hot in Australia. So hot, in fact, that meteorologists Down Under have added new, never-before-used colors to temperature maps in anticipation of record-breaking heat.
The Australian Bureau of Meteorology amended its interactive weather chart Tuesday, adding the colors deep purple and pink to indicate a temperature range of up to 54 degrees Celsius, or 129.2 degrees Fahrenheit. The previous range had capped at 50 Celsius, or 122 degrees Fahrenheit.
The change was based on one weather prediction model that forecasts temperatures to climb above 50 Celsius early next week.
The all-time hottest temperature recorded in Australia was 50.7 Celsius on Jan. 2, 1960 at Oodnadatta Airport in South Australia, the Sydney Morning Herald reports.
According to the current model, the forecast for next Monday will bring a "Tasmania-sized" area of heat in excess of 50 degrees to South Australia.
"The air mass over the inland is still heating up. It hasn't peaked," David Jones, head of the bureau's climate monitoring and prediction unit, told the Sydney Morning Herald.
But experts from other regions expressed caution about the forecast, since it only represents one possible model.
Still, Australia has been scorched by record heat in the first days of 2013. On Monday, the country's average maximum temperature record was broken, with a massive "dome of heat" enveloping the continent.
In southeastern Australia, crews are scrambling to put down scores of wildfires. According to the Associated Press, authorities have evacuated national parks, and they warn that hot, dry and windy conditions were combining to raise the threat to its highest alert level.
In Tasmania, police are still searching for 100 people who went missing after a wildfire ripped through the small town of Dunalley last week, the Australian Associated Press notes.
According to the New Scientist, "lack of rainfall in recent months has left soils completely dry and unable to release moisture that would take up heat from the air through evaporation."
Combined with vegetation left dry by the absence of precipitation, much of the continent is "ready to burn," Gary Morgan of the Bushfire Cooperative Research Centre in Melbourne told the outlet.
BEFORE YOU GO