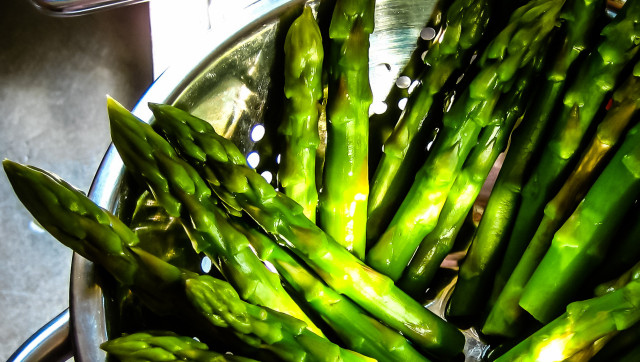 You may or may not be partaking in the hangover-inducing sort of drinking anytime soon, given that New Year's Day may or may not invoke unpleasant memories of headaches and sensitivity to light.
For the brave or merely unaffected, we suggest you don't embark on your next drinking session unarmed. Eating the right foods could potentially lessen hangover symptoms. According to a 2009 study published by the Journal of Food Science, published by the Institute of Food Technologists, asparagus could be one of those foods.
When extracts from the plant were tested on human and rat subjects, the amino acids and mineral contents alleviated cellular toxicities caused by intoxication. However, there's one frustrating caveat: The hangover-vanquishing minerals were mostly found in the vegetable's leaves, rather than its shoots. And when is the last time you ate, or even saw, asparagus leaves?
Even if you're not planning on drinking anytime soon, adding asparagus to your diet couldn't hurt -- it also has anticancer and antifungal effects.
If you don't have a palette for the veggie, there are other precautionary measures you could take. Pickles, almonds and eggs are all thought to help alleviate hangovers. Or, for a surefire mode of prevention, we suggest drinking in moderation.
[h/t Grist.org]
BEFORE YOU GO
PHOTO GALLERY
Foods That Prevent Hangovers