Henri Toulouse-Lautrec was only 36 when he died, but in his 20 year career the provocative painter captured Parisian nightlife in all its intoxicating beauty. A massive exhibition at the The National Gallery of Australia explores the many sides of the Moulin Rouge patron through 100 of his works, from paintings and posters to sketches.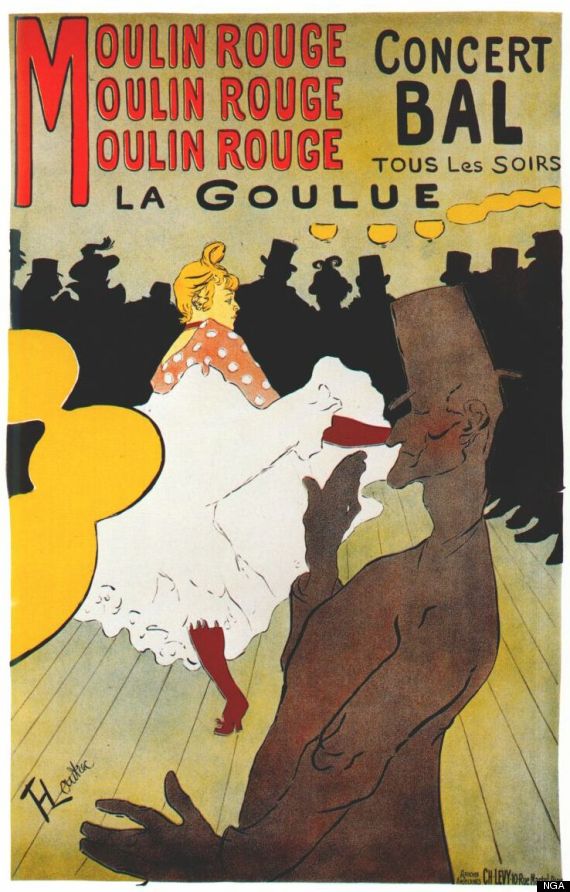 Toulouse-Lautrec, the son of two aristocratic first cousins, suffered from a congenital disease brought on by inbreeding. At an early age, after breaking both his legs, the young boy's illness prevented him from ever recovering. As a grown man Toulouse-Lautrec was 5'1", with an adult torso and child-sized legs. His ailments often left Toulouse-Lautrec bedridden, at which time he immersed himself in art.
While Impressionists in Paris were captivated with light, landscape and sensation, Toulouse-Lautrec was all about the spectacle. His posters and paintings invite viewers into the seedy glamour of fin de siècle Montmartre, a land filled with absinthe, petticoats and endless stages. Characters previously shelved as low-brow like prostitutes, clowns and can-can dancers gained dignity as well as celebrity appeal through Toulouse-Lautrec's inviting brush strokes.
The artist's work functions as a proto-tabloid or reality show, immortalizing performers like La Goulue, Jane Avril and Yvette Guilbert into both artists and objets d'art. Ken Johnson of the New York Times wrote that Toulouse-Lautrec's women were always "free agents and creative artists... in charge of their own destinies."
The National Gallery of Australia exhibition runs until April 12, 2013.
PHOTO GALLERY
Henri de Toulouse-Lautrec
BEFORE YOU GO