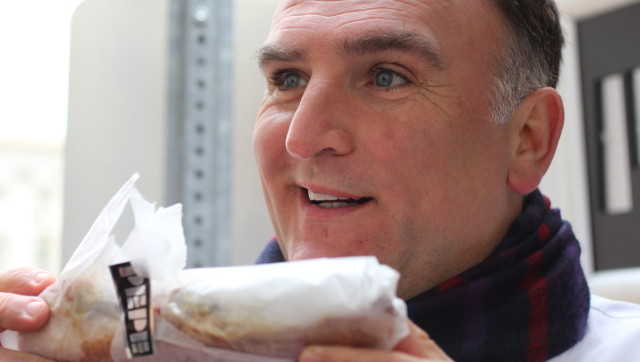 WASHINGTON -- Chef José Andrés, the man who helped popularize tapas in the United States and recently weathered an unpleasant review by The Washington Post's restaurant critic, shouldn't feel so bad. The Spaniard, whose D.C.-based Think Food Group collection has expanded to Los Angeles, Las Vegas, Miami and Puerto Rico, was named the 2012 American Chef of the Year.
According to The Daily Meal, which announced the award on Tuesday:
Jovial, charming, rakish, innovative, kind, successful, ambitious, talented, skilled, and well-liked — when you think about all the adjectives with which you could describe chef–restaurateur José Andrés, it almost doesn't seem fair. In fact (and you should read in the wink here), maybe "selfish" should be thrown in: Think he could maybe leave a few crumbs for everyone else?
Andrés, who will teach a class at George Washington University this year, won a coveted James Beard Foundation most-outstanding chef award in 2011.
Andrés-owned restaurants in the nation's capital include Jaleo, Oyamel, Zaytinya and Minibar, the tiny gastronomic lab that reopened in a new slightly expanded space last year. In December, Washington Post critic Tom Sietsema shocked the local food establishment by awarding Minibar just two stars, irking Andrés in the process.
Following the announcement of Andrés new honor, the chef was markedly more upbeat on Tuesday:
Take a look at Andrés D.C. food truck, Pepe, which launched last year ...
PHOTO GALLERY
Pepe Food Truck
BEFORE YOU GO