Parents and students In Parkersburg, W.V. are furious after a teacher allegedly placed a student with Asperger's Syndrome in a cardboard box labeled "Bad Kid Fort."
Community members gathered outside Parkersburg High School Tuesday with signs, fighting for awareness and changes to disciplinary methods. Parents of 15-year-old Caleb Richards told the Parkersburg News and Sentinel that their son was humiliated by the unnamed teacher, who reportedly placed Caleb in the box for 15 minutes at a time over poor classroom behavior -- in front of 30 of his peers. (PHOTO BELOW.)
"Our goal here is to help Caleb out, and to make sure that this does not happen to another child again," Caleb's father Jeff Richards told WTAP.
The teacher in question no longer teaches Caleb, but is still employed at the school. The practice surfaced after a student saw the box in the school hallway, took a photo and sent the image to mother Beth Dean. Dean took to Facebook to express her outrage.
Caleb's condition is being managed with medication, an individualized education program and a behavior plan with explanations of how to handle disruptive behavior when it arises.
"Placed in a cardboard box was not one of those steps," Dean told the News and Sentinel. "This did not help [his existing self esteem issues] and destroyed the years of counseling and encouragement we have provided to make sure he has a good self-image."
As Caleb's parents and Tuesday's protesters seek accountability for the teacher's actions, and measures to prevent future incidents, Parkersburg High School Principal Pam Goots tells WTAP that the offending educator is a good teacher who exhibited poor judgement.
"I sent an e-mail to [Wood County School Superintendent Patrick Law] yesterday, and I asked him to perhaps look into some training for the staff," Goots told the station. "I think as the times change, and we have a lot of different personalities and different diagnoses in the classroom, we really need to educate our staff."
The incident in Parkersburg comes as dozens of families across the country are fighting back against a system of physicality and isolation as methods of school discipline.
An Education Department report in March found that schools physically retrained students 39,000 times during the 2009-2010 school year. There are currently no federal standards for the use of seclusion and restraint in schools, and only 17 states have specific laws that limit their use.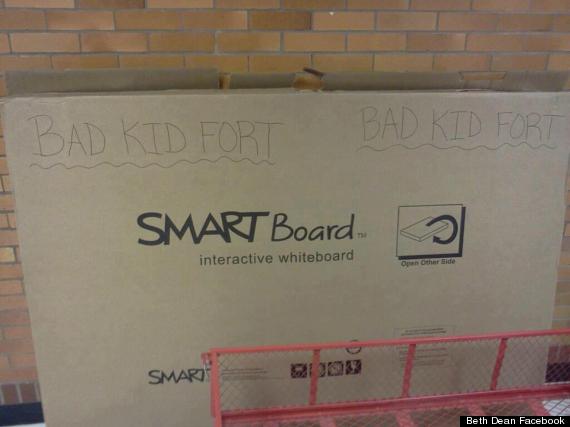 BEFORE YOU GO
PHOTO GALLERY
Teacher Controversies