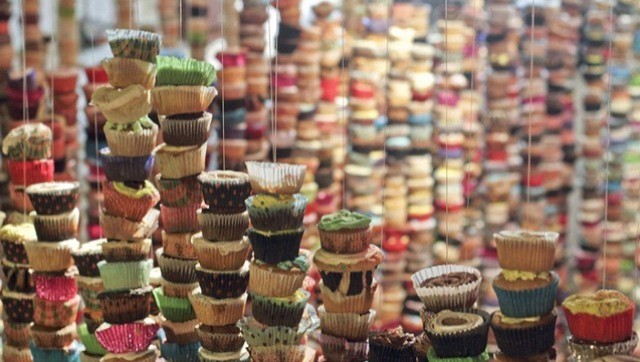 A New York City-based student has baked over 13,000 cupcakes in the last year. She doesn't have an irrepressible sweet tooth or appetite -- these desserts are being used for art exhibits.
Leah Foster, 24, baked 10,000 cupcakes for a show at ConArtist NYC, and 3,000 for a similar exhibition in her hometown of Dallas, Texas. She doesn't use any materials to preserve the cupcakes.
"Instead of paint, I use cupcake batter and frosting to glaze the surface of the gallery. The batter functions as paint, yet does not attempt to hide its identity as a food product," Foster writes on her website.
She claims that the dessert is her guilty pleasure, as it simultaneously attracts and repulses her. She's dubbed this juxtaposition the "duality of the cupcake."
We totally understand what it's like to want and not want a cupcake at the same time, but we're not sure how we feel about Foster's thesis that, "hidden in this dual nature of the cupcake lie many loaded, gender-specific ingredients."
Still, her exhibit is inarguably pretty and delicious-looking. Check it out!:
All images courtesy of Leah Foster
PHOTO GALLERY
Cupcake Art Installation
BEFORE YOU GO
PHOTO GALLERY
Cupcake Recipes