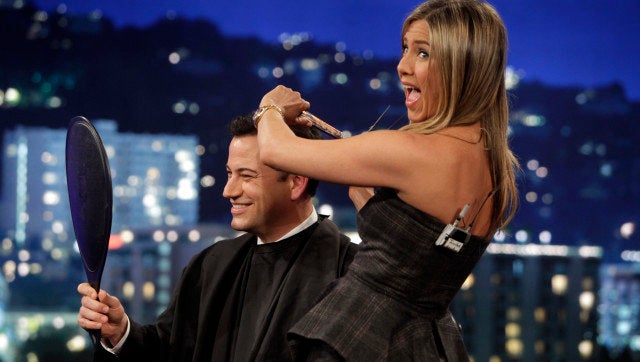 While paying her vacation BFF Jimmy Kimmel a visit on his late night talk show on Tuesday, the "Horrible Bosses" actress revealed that she's pretty handy with a pair of scissors -- or, at least, she was back in 7th or 8th grade. Naturally, Jimmy wants to see her beauty parlor skills in action and requests that she give him a trim on set. Jen's response? "It's been 30 years since my last haircut, so let's go for it."
The ensuing cutting was punctuated by Jen's multiple claims that she was "shaking," which isn't the best way to instill confidence in one's clients as a hairdresser. But, hey, if the engaged star offered to cut our hair, we doubt we could say no to her. If the girl can get us to dole out the extra dollar for a bottle of Smart Water, what can't she do?
Watch Jennifer Aniston cutting Jimmy Kimmel's hair -- in a cute tartan dress, no less -- and tell us what you think. Would you let Jen give you a new 'do?
See Jennifer Aniston's hair evolution. Think she cut her own hair ever?
PHOTO GALLERY
The Many Hairstyles Of Jen Aniston