A longtime Roberta's waitress decided to make her last shift a memorable one this weekend, serving patrons in almost nothing but her birthday suit.
The Daily News reports the unidentified employee was naked save for some fishnets, with the words "PEACE OUT" written in black on her bare back.
@VickyOyomba tweeted the following (kind of NSFW) photo: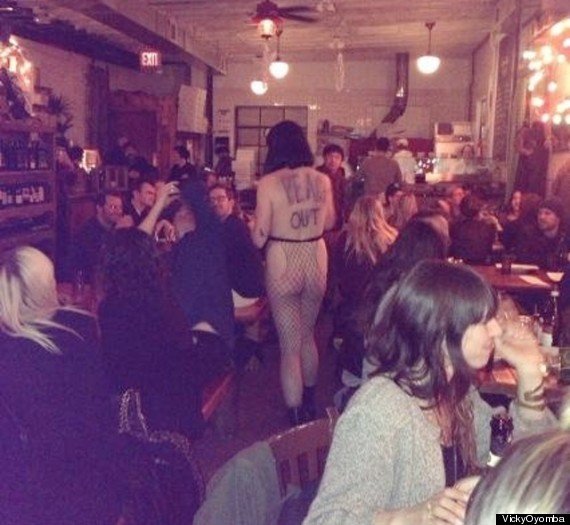 Of course, we're familiar with proud, topless ladies and high-brow rat dining, in New York City-- but a naked server at a Times-approved, culinary darling?
Big deal. The crowd at the Bushwick restaurant didn't seem to even blink an eye.
A witness shrugged, "We didn't think it was a big deal. This is New York City. Seeing naked people somewhere is normal."
As Gawker writer Max Read, who was present on Friday night, postulates:
...Either no one gives enough of a shit about Bushwick, or Roberta's, to excitedly share photos of their nude Bushwick waitress, or that Bushwick is so mega-hip that you just expect your waitress to show up naked and written-on, and probably you don't even have a Facebook account or anything. Either way, the food was really good.
Fair enough! Bon appetit and to the New York City service industry, more bizarre swan songs, please.