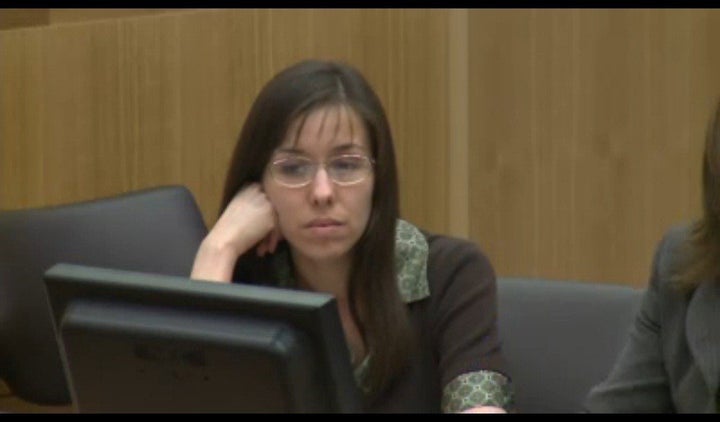 Jurors in the Jodi Arias murder trial heard a bold statement Thursday that the accused femme fatale made during a television interview.
"No jury is going to convict me ... because I'm innocent and you can mark my words on that one -- no jury will convict me," Arias told the TV show "Inside Edition."
The recording, which was made in 2008, after Arias was indicted for murdering her ex-boyfriend, was played in Maricopa County County Superior Court in Arizona on Thursday, on day five of Arias' murder trial.
"I understand all the evidence is really compelling," Arias said in the interview. She added, "I've never even shot a gun. That's heinous. I can't imagine slitting anyone's throat."
Arias, a 32-year-old photographer, is accused of shooting her lover, Travis Alexander, in the face, stabbing him 27 times and slitting his throat from ear to ear in the shower of his Mesa, Ariz., apartment on June 4, 2008.
Arias has pleaded not guilty to murder, claiming she killed Alexander in self-defense. If convicted, she faces the death penalty.
Earlier on Thursday, Nathaniel Mendes, a former detective with the Siskiyou County Sheriff's Office in Calif., testified that there is no restaurant called Margaritaville in Yreka, California.
Mendes testimony about the restaurant was important to the prosecution and indicated Arias had lied about her place of employment, which sullied her explanation of how she had injured her fingers around the time Alexander was murdered.

On Wednesday, Ryan Burns, Arias' former love interest and co-worker at PrePaid Legal Services, testified she had "two small bandages" on her fingers when she visited him in West Jordan, Utah, on June 5, 2008. Burns said Arias explained away the injuries by saying she worked at a Margaritaville restaurant in Yreka, where she had broken a glass and cut her finger.
Mendez also testified about receipts found in Aria's bedroom, which show she had rented a car in Redding, Calif., on June 2, 2008 and returned it six days later, after she put 2,834 miles on the car.
Lisa Perry, a forensic scientist for Mesa police, was called to the stand after Mendez. Perry said she spent two days at the crime scene and collected blood evidence in the case for DNA analysis. Perry spent a significant amount of time on the stand detailing blood splatter and stains that were found throughout Alexander's apartment. She also testified that a .25 caliber bullet casing found at the scene was lying in a pool of congealed blood, suggesting the bullet inside the casing had been fired after the blood was on the floor.
GRAPHIC CRIME SCENE PHOTOS: (Article Continues Below)
PHOTO GALLERY
Travis Alexander - Jodi Arias Crime Scene And Trial Photos
Mesa, Ariz., police detective Esteban Flores was called to the stand when Perry completed her testimony.
Flores testified he had a conversation with Arias when she acknowledged she had Alexander's ATM pin number and the security code to enter the garage of his apartment. Flores also testified he was aware of the interview Arias had given to "Inside Edition" in 2008.
During cross examination, Flores acknowledged testimony he had given at a hearing on August, 6, 2009 was incorrect. During that hearing, Flores had testified that Alexander was shot before he was stabbed.
"So your testimony that the gunshot occurred first was inaccurate … Your testimony was a mistake," defense attorney Kirk Nurmi asked.
"No, my testimony wasn't a mistake; it was a misunderstanding of what [the medical examiner] said," Flores replied.
The final witness called by the prosecution Thursday was Jodi Legg, a DNA analyst with the Mesa police crime lab.
Legg testified she analyzed a piece of wall that had been cut out of Alexander's apartment and found DNA belonging to both Alexander and Arias.
After Legg's short testimony court was recessed until Monday morning at 12:30 p.m. EST.
BEFORE YOU GO