Honestly, we could look at photographs of Marilyn Monroe all day. But there is something about 14-year-old Peter Mangone's 1955 series that makes us feel closer to Miss Norma Jeane Mortenson than ever before.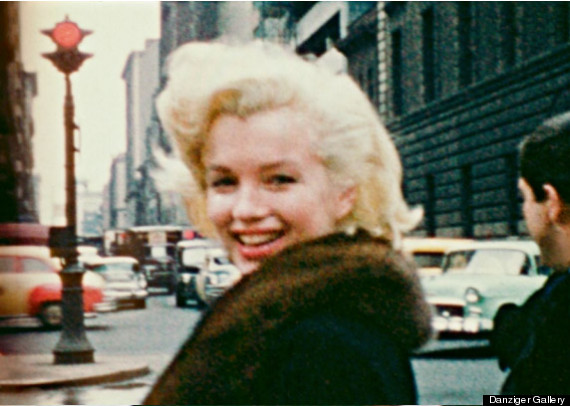 Maybe it is because "Marilyn Monroe, NYC 1955" feels almost like a gritty Instagram feed, far more nonchalant and imperfect than the usual coffee table book. Maybe it is because we can feel the innocent joy of the teenage photographer who ditched 9th grade to get a shot of the Hollywood starlet when she was in town.
Mangone borrowed his brother's Revere movie camera -- a shoddy, little orange cardboard Kodachrome box -- and waited outside the Gladstone Hotel, where 29-year-old Monroe was staying after her divorce from Joe DiMaggio. Monroe spotted Mangone and gestured him to follow her. The film— 5½ minutes, 329 seconds, 28 frames a second, 9,212 frames— shows Monroe at her most effortless and most entrancing.
Peter Mangone passed away on December 11, 2012. In honor of his life, work and incredible luck, Danziger Gallery is presenting "Marilyn Monroe Rediscovered, The Lost Film of Peter Mangone (New York, 1955)" with a gallery exhibition and book published by Danziger Gallery/T.Adler Books. The show runs from January 10 - February 9, 2013.
In the meantime, check out a preview of the exhibition below and try not to drool too much.
PHOTO GALLERY
Marilyn Monroe
BEFORE YOU GO