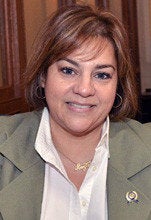 A Democratic state assemblywoman, Angelica Jimenez, has proposed that all new gun buyers in New Jersey undergo a mental health evaluation and home inspection first.
Jimenez (D-West New York) filed legislation Wednesday that would require gun buyers in her state to present the results of a mental health examination before purchasing a weapon and that would direct police officers to inspect the buyer's home to determine if the gun would be kept away from children and the mentally ill. Jimenez's measure, if passed, would likely be the first of its kind in the country.
"What happened in Connecticut was the mother kept firearms and it was the son who got to them," Jimenez told The Huffington Post, referencing the school shooting in Newtown, Conn., that killed 26. "How did he have easy access to guns? That is my concern."
Jimenez said she wants police officers to conduct site inspections of potential gun owners' homes in make sure, among other issues, that the gun would be kept in a secure location and that children and the mentally ill could not get their hands on the weapon. "Police officers, they know," Jimenez said. "They are able to pick up things that we cannot see."
She said she came up with the home inspection idea after talking to the father of her 7-year-old daughter's friend, who said local police drove by his New Jersey home when he sought a gun permit.
In terms of the mental health evaluation, Jimenez said that it would hold private gun owners to the same standard as police officers.
"If a psychiatric test deems this person as not qualified to have a firearm, then they should not have one," she said. "If a police officer has to go through the test, then why not everyone?"
New Jersey lawmakers have begun introducing a series of bills to strengthen the Garden State's gun laws in the wake of the Newtown tragedy. These include a proposal from state Sen. Barbara Buono (D-Metuchen), the only Democratic candidate for governor, to require New Jersey officials to send the names of those with mental illnesses who have been institutionalized or otherwise officially deemed to be dangerous to themselves or others to an FBI database of those barred from owning guns. Buono was critical of Gov. Chris Christie (R) for not answering questions about gun issues during media interviews Wednesday and for not mentioning gun control in his State of the State address on Tuesday.
The National Rifle Association did not return a call for comment on Jimenez's proposal.
Jimenez said she has not discussed the legislation with Christie or fellow lawmakers, although Assemblyman Charles Mainor (D-Jersey City) has signed on as a co-sponsor of the bill. Mainor, a Jersey City police detective, serves as chairman of the Assembly Law and Public Safety Committee.
Jimenez stressed that she is not seeking to prevent people from owning guns, just trying to prevent firearms from getting into the wrong hands.
"I support people who own guns. It is their right," she said. "I don't want to ban guns."

BEFORE YOU GO
PHOTO GALLERY
Pivotal Moments In The Federal Gun Control Debate