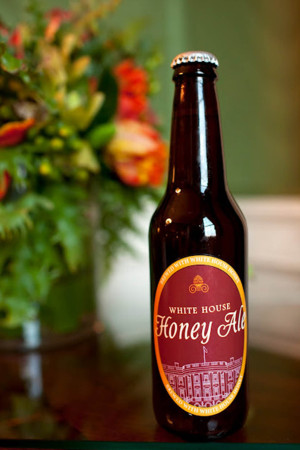 (Pete Souza/White House)
Though a self-proclaimed "beer guy" was overjoyed to get a bottle of White House-brewed beer from President Obama during the campaign, he decided to auction it off for a cause even closer to his heart.
Brad Magerkurth, a homebrewer and traveling salesman, happened to have been in Knoxville, Iowa when Obama was making his way through the swing state in August, the blog Obamafooddrama reports. After bonding with the president over their mutual appreciation of the drink, Magerkurth was surprised with a bottle of White House Pale Ale that an aide retrieved from Ground Force One.
"I was pretty ecstatic," Magerkurth told Obamafoodorama. "For someone in the beer industry, it's about the coolest thing in the world."
But while it may have been the keepsake of a lifetime, Magerkurth recognized that it was also an opportunity to raise some serious funds. He decided to auction the beer off at a food and drink festival in Minnesota for $1,200 for the beer, which benefitted the University of Minnesota's Amplatz Children's Hospital.
Though Magerkurth may have given up the opportunity to chug a beer brewed at 1600 Pennsylvania, he can at least try and recreate it now that the secret recipe has been divulged.
Back in August, a Redditor submitted a Freedom of Information Act request to find out what goes into the White House beer.
White House Press Secretary Jay Carney then vowed to unveil the ingredients once 25,000 people signed the petition begging for the White House Pale Ale recipe –- a goal that was finally reached in August.
BEFORE YOU GO
PHOTO GALLERY
Obama Celebrates St. Patrick's Day