UPDATE: According to BuzzFeed, Anthropologie has pulled its Trinkets & Treasures candlestick from its website and issued the following apology via Public Relations Director, Sara Goldstein:
"An independent artisan makes these one-of-a-kind candlesticks from vintage ceramics. Unfortunately two that we received included extremely inappropriate figurines, and we have removed them from our website." She adds: "We sincerely regret the offense we have caused."
PREVIOUSLY:
We've learned to look past Anthropologie's exorbitant prices in favor of utterly adorable home decor. But a recent (and questionable) item summoned our sanity quick, fast and in a hurry.
The company's Trinket & Treasure Candlestick, a two-foot tall, $398 creation features a stacked assortment of porcelain, tin and glass ephemera, including Sarah Palin's house, JFK on a bell and a mammy figure from D.C. Huh?
The item -- described on the site as "an assortment of found knickknacks" made by a company called Primitive Twig -- appeared to be for sale when Jezebel's Laura Beck pointed it out on Thursday, but is currently listed as no longer available.
Racial caricature cropped up mostly on the fashion scene last year, most notably in June, when Adidas introduced a prototype for a Jeremy Scott-endorsed "shackle" sneaker, and in September, when Italian fashion brand Dolce & Gabbana presented their Spring 2013 collection, including images of dark-skinned, slave-like African women splashed on burlap-sack frocks and earrings.
D&G later offered up an explanation for its "Blackamoor" design, an image they say was inspired by the Moors who conquered Sicily.
But while their reasoning remains up for debate, the insensitivity of the black mammy figure does not, hearkening back to when the slavery-era images were in fact used to serve the economic interests of mainstream white America.
PHOTO: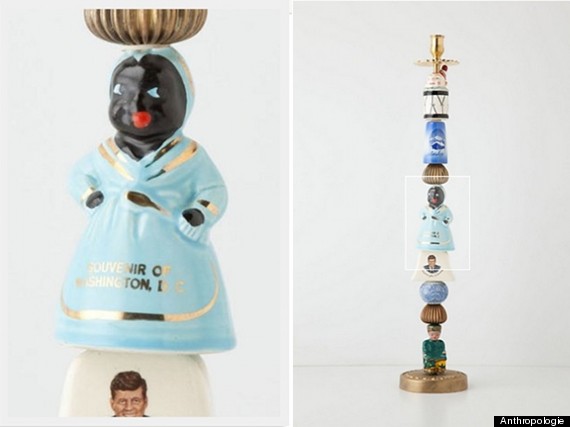 BEFORE YOU GO