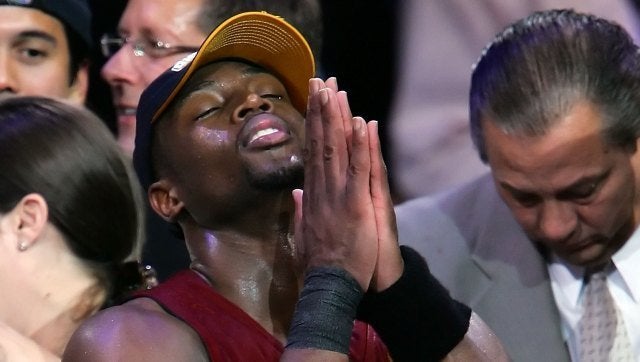 Before each of the many NBA games played over the course of the season, one unique pre-game ritual that's little-known among fans is shared: a joint chapel service.
Faith has played a remarkable role in the lives of players of every sport, but the NBA's pre-game chapel sets the league apart. In professional hockey, football and baseball, players often pray by themselves or with their own teams before games. The NBA's pre-game chapel, however, has opponents attend a voluntary prayer service together before competing. The ritual is about to celebrate its 34th year.
"The league is pretty special in this regard," said Mike Yorkey, a former Christian magazine editor and author of Linspired: The Remarkable Rise of Jeremy Lin who has written extensively on religion in the NBA. "About 45 minutes before the game, players from both teams are invited to meet with the hometown chaplain for a service that lasts about 15 minutes. The chaplains will either share a little message or read some scripture and sometimes they will encourage the guys to ask and take prayer requests." On occasion, the players also sing a capella.
(As in most professional sports, each NBA team has its own chaplain, some of whom follow teams on the road and others who are only around for home games.)
The sermon topics are often about overcoming challenges in life as related to a message in the Bible, said Yorkey, "but the basic goal is to equip the players to live lives that glorify God and to encourage them to remain strong in the face of temptation."
"Then they separate from each other, warm up, shoot out and eventually start the game. Here are players sitting next to each other, sharing intimate prayer requests before they go and beat each other up on the basketball floor," he added.
According to experts who study religion in athletics, the role of faith in the NBA differentiates it from other professional sports. NBA players are known for their public professions of faith; the Houston Rockets' Lin, for example, is an evangelical Christian.
"The whole league is just fascinating to me -- everything they do pre-game to during the to game off the court," said Daniel Czech, a professor of sports psychology at Georgia Southern University. Czech studies the role of faith in sports and also counsels players -- he's currently working with three -- via phone about their spiritual and mental health as they work through seasons.
"It is almost like a male soap opera if you follow it -- the story lines, the coach interaction, the team turmoil, the team chemistry, and this idea of praying together for one another, even though you want the other to lose very badly," Czech said.
The first NBA pregame chapel was held in February 1979. That year, Philadelphia 76er and forward Bobby Jones asked general manager Pat Williams to get a chapel service together for players. Williams, who knew faith helped motivate Jones on the court, organized a pregame chapel during the team's next home game.
In interviews, Czech has found that players often don't pray for their own success. "They don't really talk about praying to win," he said. "A lot of times it's more of a thankful prayer, a prayer to play to the best of their ability, a prayer to not get injured."
In his book, Yorkey documents a recent pregame chapel that Lin, then a player with the New York Knicks, attended before a January 2011 game against the Miami Heat. It was Jan. 27, just before Lin's popularity began to skyrocket and just over a week before the Knicks had to decide whether to keep him on the team and on contract for the rest of the season. Only a handful of players from both teams were at the service, including the Heat's Udonis Haslem.
"Lin had been sent to the D-League -- Development League [minor league] -- recently and wasn't in a great position," explained Yorkey.
The chaplain gave a short sermon and asked if there were prayer requests. Lin put up his hand. "That I not get cut again," he said.
A week later, Lin posted 25 points against the New Jersey Nets, touching off a phenomenon that would be known as "Linsanity."
For the time being, said Yorkey, "God answered that prayer."
PHOTO GALLERY
Most Religious Football Players And Coaches
BEFORE YOU GO