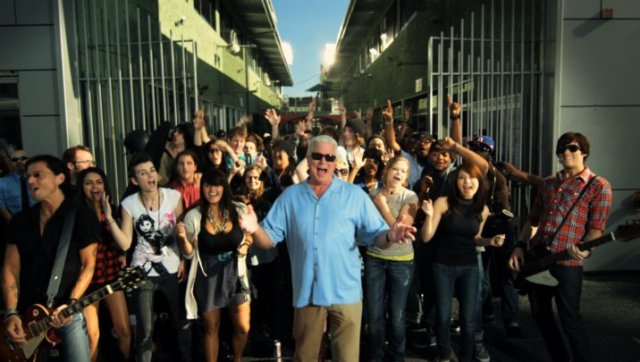 Robert DaGasta may not have Huell Howser's twang, but the superfan feels like he has that "Huell mentality."
The Burbank resident, who was devastated by the death of the popular TV personality, has been retracing some of Howser's steps around Los Angeles, as part of an effort to create a tribute to his legacy.
He has been leaving photographic tribute pages at many of the Southern California landmarks that Howser highlighted on his TV show, so that fans can sign them and they can eventually be donated to his archives at Chapman University.
The project is affectionately titled: "It's All For Huell."
"It's corny -- just like Huell would like it," DaGasta said, laughing.
Howser died at his home in Palm Springs during the early morning hours of Jan. 7 after a two-year battle with cancer. The Tennessee native and Los Angeles transplant was 67.
Howser began working with KCET (Channel 28) in 1985 and filmed some 2,000 television episodes, most notably for the community television station's "California's Gold." With his folksy approach to every museum, store and eatery, Howser invited viewers to take a wide-eyed tour of his favorite spots in California.
"In California, for people to relate to a guy from Tennessee was amazing,"
DaGasta said. "And in a city like Los Angeles where people don't know who's real and who's fake, Huell Howser was real."
At a booth at Tallyrand, an all-American diner in Burbank known for its mountainous plates of comfort food, DaGasta excitedly shuffled through a pile of his tribute pages with pictures of Howser.
DaGasta was inspired to stop there Friday from "Visiting ... with Huell Howser" episode 1718, just one of a series of California-focused shows hosted by Howser.
"He was such a blessing," said Karen Ross, co-owner of the family restaurant. "I've never seen a one-man show attract so much buzz like Huell's shows did."
Every time episode 1718 aired, Ross said, hundreds of people hailing from Pomona to San Diego and Palm Desert would flock to the restaurant asking for Howser's favorites, which included the gravy drenched Hot Turkey Sandwich and the restaurant's Famous Turkey Dinner.
Ross said Howser just had a special gift of taking "a very ordinary thing and making it a big deal."
DaGasta started his own trek through Los Angeles County on Thursday, making stops at Pink's Hot Dogs in Hollywood; Fosselman's Ice Cream Co. in Alhambra; Hot Dog on a Stick in Santa Monica and everywhere in between.
"Huell gave us more than 25 years so what's a few days?" DaGasta said of his project.
Plus, the Burbank resident said "it's nice to sort of walk in his footsteps and experience some great spots throughout L.A. like he did."
"It's like I'm in his shoes for a brief moment," said DaGasta. "This guy had the life."
DaGasta said it doesn't take much to get the store owners, restaurateurs and other Howser fans to share stories of their encounters with the public access television icon.
"I go to these places unannounced and they welcome me with open arms. I just tell them that Huell thought they were special so I do, too," DaGasta said. "It's really been an unbelievable experience."
DaGasta expects to have at least 30 tribute pages ready by Howser's public sunset memorial scheduled for Tuesday at the Griffith Observatory. DaGasta even made a poster he plans to take to the memorial to allow attendees to write their heartfelt messages to Howser.
"We think this is how Huell would want to be remembered by locals as he was so personable and taught us so much about the lovely things in our own backyard," said Jennifer Caruso, DaGasta's girlfriend who is helping with the project.
The couple plans to donate the tribute pages to Chapman, the Orange-based university where Howser donated all of his "California's Gold" archives and other works.
DaGasta also hopes to compile the pages for a book to help raise money to erect a local monument for Howser.
Coincidentally a separate unrelated petition effort for a memorial statue atop Griffith Park has been circulating online via an anonymous fan.
But whether the book or monument pan out, DaGasta and Caruso said they plan to organize "Huellventures" for fun once a month starting next week. The couple has done a few Howser-inspired road trips of their own over the years, but plan to invite other fans to join.
"I think the best way to continue Huell's legacy," DaGasta said, "is to keep visiting the places he went to and to discover more places he'd love."
Photos courtesy of Robert DaGasta's Facebook page, Person Of Leisure. To help DaGasta with his Huell Howser memorial, contact him through his Facebook page.
PHOTO GALLERY
Robert DaGasta's Tribute To Huell Howser
mariecar.mendoza@dailynews.com
818-713-3623
twitter.com/LADNMarMendoza ___
BEFORE YOU GO
The funniest tweets in memory of Huell Howser.
PHOTO GALLERY
Twitter Reacts To Huell Howser's Death