Out-of-town visitors coming to the 2013 Detroit auto show this month will likely know where to find the cars, but might be scratching their heads when it comes to what to do outside of COBO Center.
Though Detroit gets plenty of bad knocks, there's a never-ending list of things to do in the city that runs on gasoline and soul music. But it can be difficult to find them if you're not familiar with the environment. We've compiled a guide to help the influx of tourists for the auto show -- or any other visitors making their way to the Motor City. And it's likely to be a decent number -- more than 6,000 journalists alone are set to come to the city to cover the show when it kicks off Monday and Tuesday.
Live in southeastern Michigan? Read our guide for lunch spots and tips for your next trip to the city. A diehard local? Let us know in the comments which destinations you make sure to show out-of-towners.
If you're still looking for more information about the cars themselves, find basic show info and map here, a preview of the carmakers' big reveals, and see our Detroit auto show page to keep up to date as we bring the latest news, photos and more.
Get Around:
Let's be honest: your trip will be a million times easier with a car -- though auto show attendees are probably least likely to protest this point. There are plenty of options at the airport, and Zipcars are available in the city. Taxis are available around COBO and downtown, and it's easy to get one outside the Westin Book-Cadillac Hotel. Photo by Bruce Dale/National Geographic/Getty Images.
As for public transportation, we're working on it. For now, navigating the bus routes can be challenge but if you get yourself to the city, it's certainly feasible to use buses to get around. Downtown, there's the People Mover -- more on that later.
Dine:

The Motor City is taking food seriously these days, giving travelers variety in terms of price and cuisine within walking distance of Cobo Center, or a short cab ride or jaunt to connecting neighborhoods.
For a taste of old-school Detroit along with your morning joe, we recommend grabbing a stool at Duly's Place in Southwest, where the decor and prices are pretty much frozen in the 1960's . Yeah, the major newspapers always go on about which is better: Lafayette or American Coney Island, located right next door to each other on Lafayette Avenue. If you want to leave the tourists behind, hop on Vernor Avenue headed west and order up a Coney Dog (chili, mustard and onions) with the locals.
For the highest quality jukebox selection to lunch menu ratio, take Second Avenue north to the Bronx Bar. Once a favorite of Jack White's, this always-dimly-lit dive bar dishes up fantastic soups and hearty sandwiches along with the rock & roll. Two jukeboxes plus cheap drinks = heaven in the Cass Corridor.
Even the all-American slider burger is being served up with new swagger. Detroiters have jokingly dubbed the industrial area along Detroit's west riverfront "Corktown Shores." Take Lafayette west from downtown, and you'll find new local favorite Green Dot Stables, whose kitchen turns out so-cheap-you'll-blink varieties of mini burgers and truffle fries. Ever had a kimchi slider? Trust us on this one.
But the Midwest isn't all meat and potatoes. Detroiters flock to the all-vegetarian and vegan Seva in Midtown, and they'd tell you to start your meal with an appetizer of General Tso's Cauliflower, breaded in tempura and served with a sweet-and-sour chili oil.
Or book a table at Rodin, located in Midtown's historic Park Shelton building along Woodward Avenue. This just-opened dining destination often features the city's hottest DJs along with its French-inspired cuisine.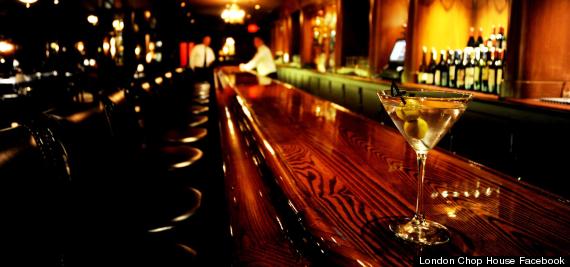 Facebook photo from London Chop House.
One of the city's finest classic dining traditions re-opened its doors this year. At the London Chop House on W. Congress, first founded in 1938, nostalgia for the era of auto barons resurrects classic favorites like Oysters Rockefeller and Dover Sole Meuniere to the table.
And good news for visitors: Slows Bar B Q, one of the restaurants tourists flock to (and rightly so) just reopened after being closed briefly. The mouthwatering BBQ joint in Corktown now has even more taps, and, with more seating, perhaps a shorter wait time, though we can't promise that considering this spot's popularity.
UPDATE: Jan. 14 -- Though Slows Bar B Q was listed as closed for short-term renovations in the original version of this article, the restaurant has reopened.
Play Hooky:
Spend an afternoon away from the fluorescent-lit, temperature-controlled COBO center and get lost at John King Books, a four-story, drafty, labyrinthine treasure trove of used books. Sing along to The Supremes at the entertaining Motown Museum. Or (weather permitting) check out the Heidelberg Project, Tyree Guyton's famous outdoor found art installation. If you're here on your company's expense account, or just want to spend a little time pampering yourself, check out MGM Grand for the IMMERSE spa and the slots.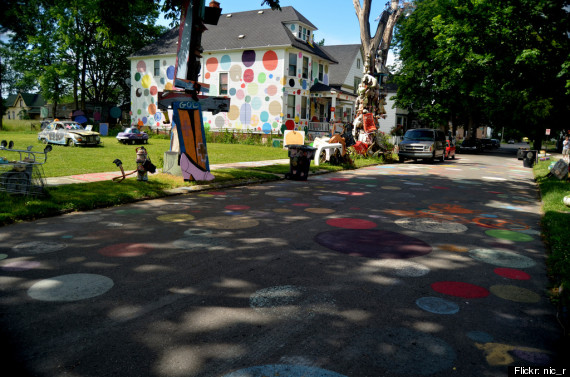 Flickr photo by nic_r.
If you're in town after the first few days and really want to go the opposite of the auto show, check out not one, but two art exhibits dedicated to alternative forms of transportation: "Detroit's 2013 North American International Anti-Auto Show," opening Friday, Jan. 18 at the Contemporary Art Institute of Detroit, and "Bicycle Bicycle," opening Wednesday, Jan. 23 at the Detroit Creative Corridor Center gallery. And there's plenty more art to soak in, from the world-class Detroit Institute of Arts, to galleries all over the city. Up-to-date local listings can be found at Art Detroit Now.
Drink:

If there's one thing Detroit does well -- or at least prolifically -- it's bars. Downtown is chock-full of watering holes for escaping once the COBO crowds become oppressive, from classic dive bars to the newest craft cocktail lounges. And while we know you're here for the auto show, don't get behind the wheel after downing too many. Call a cab, map your walk or plan a ride before you head out on the town.
For a wine bar with a very Detroit attitude (think friendly and inexpensive) head upstairs from the also-recommended Grand Trunk Pub to Motor City Wine. Bar and store combined, this in-the-know downtown spot on Woodward packs in weekend crowds for their roster of musicians and DJs.
If electronic music is your thing, you'll hear the biggest names in Detroit house and techno, plus noteworthy visitors on the decks, at TV Bar on Grand River Avenue near Woodbridge.
Craft cocktails are currently dominating the Motor City's nightlife scene. Head west on Michigan Ave. to Corktown's Sugar House, where the suspender-clad barkeeps create painstaking -- and potent -- libations in a vintage-inspired setting. You'll also find signature offerings in liquid form at Woodward's Atlas Global Bistro, Park Avenue's Centaur or the aptly-named Motor Bar on the second floor of the Westin Book-Cadillac hotel.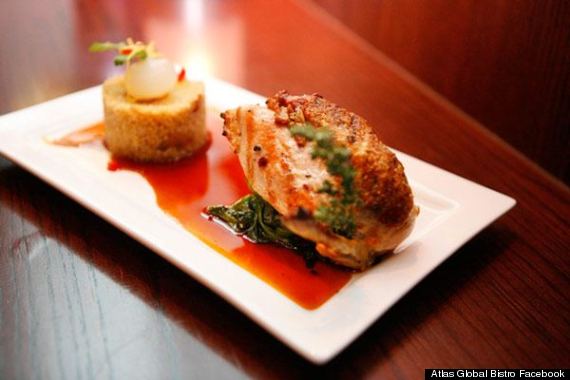 Facebook photo from Atlas Global Bistro.
Looking for more sustenance with your sips? Try a liquor-laden homemade milkshake at the Mercury Burger Bar on Michigan Avenue in Corktown.
One of the city's can't-miss experiences also pours some of Detroit's fanciest cocktails. We suggest making a reservation for dinner and drinks at the Cliff Bell's jazz club, a sophisticated ode to the Motor City of yore.
And if a low-key pint is on the menu, casual downtown spots like the Town Pump Tavern, Detroit Beer Co. and Park Bar (which happens to be the seating for the mouth-watering shawarma at next door Bucharest Grill) are recommended for their quick service, reasonable prices and good food.
We also recommend the Greektown District, home to Flood's, Jacoby's Biergarten and America's largest Buffalo Wild WIngs.
Continue on for more:
Stay:

Didn't book a hotel room yet for the North American International Auto Show? Better pitch a tent in Hart Plaza! But seriously, what were you thinking? Check Airbnb.com or VRBO.com to wrangle last-minute private lodging.
Auto industry insiders, journalists, car models and vendors usually rush to book the best hotels within walking distance of downtown Detroit. Premium accommodations can be found inside the futuristic Renaissance Center's Detroit Marriott, the Atheneum in Greektown or the newly-restored Westin Book-Cadillac. You'll also be close to the action for a great value at the Holiday Inn on Washington Blvd. or the Shorecrest Motor Inn on E. Jefferson.
Take a gamble on finding a room at Detroit's casino-connected hotels: the MGM Grand Casino near Corktown, the MotorCity Casino Hotel on Grand River Avenue or the Greektown Casino Hotel.
For a trip back through history, the Inn on Ferry Street offers modern luxuries within the walls of gorgeous Victorian mansions in Midtown. Upstairs from Corktown's super-hip Astro Coffee, design-focused B&B Honor & Folly even offers cooking classes from a local chef.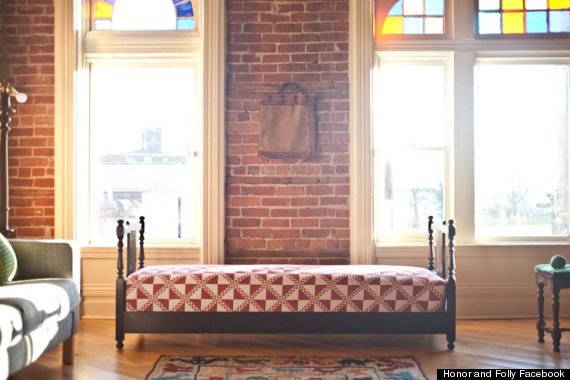 Suburban stays can also be luxe retreats from all the hustle and bustle, especially if you booked a room in Birmingham's tony Townsend Hotel or the Henry in Dearborn. Both upscale lodgings have high-class dining and top-shelf concierge services.
And for a Detroit experience where you'll feel more like less like a tourist than an appreciated guest, book a bunk in NoCo's Hostel Detroit and learn to love the city the way us locals do.
Get Outdoors:

If Detroit is blessed with nice weather during the auto show, there are a couple of great spots to escape into the outdoors. On Belle Isle, the largest city-owned island park, explorers can find beaches, an aquarium, a conservatory and even an abandoned zoo. Close to COBO, Detroit's Hart Plaza and riverfront are perfect for a picnic or breath of fresh air. And even if it's cold you can always go for a skate at Detroit's version of the Rockefeller Center, the Campus Martius outdoor ice rink in the middle of downtown.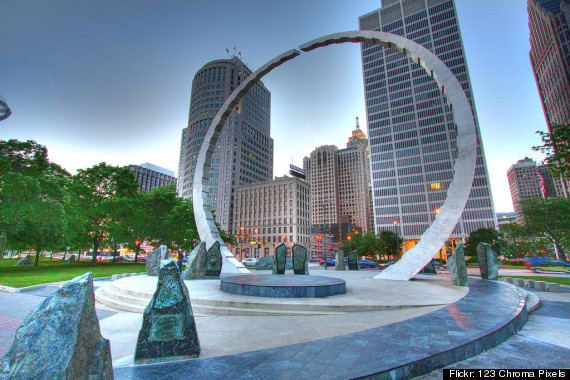 Flickr photo by 123 Chroma Pixels.
Have Fun:

For a quirky night out, try feather bowling at the Cadieux Cafe on the east side. It's Belgian, as are the delicious pommes frites. Knock down some pins at the more traditional Garden Bowl, which calls itself the oldest alley in operation in the U.S. -- you're likely to catch live jams at one of the three connected concert venues. You can always see a movie at Ren Cen 4 in the complex that's home to GM's global headquarters or on the weekend, head out to the Ford Drive In theater slightly west in Dearborn. For more events, check out the listings in Real Detroit and the Metro Times.
Learn:

In case you don't find the car craze intellectually stimulating, Detroit offers plenty of venues to engage the mind. The Henry Ford, a museum and massive complex dedicated to the history of the automobile and American innovation, is an obvious stop for an auto show attendee on even the shortest Detroit trip. You could spend a whole weekend here (oh yeah, it includes an IMAX Theater and an 1800's village), but if you've only got a couple hours, make sure to check out the the bus where Rosa Parks launched her protest in the Civil Rights movement, a collection of presidential limousines and, of course, classic Model Ts.
If you want to get to know the the story behind your surroundings in a more informal context, the Detroit Drunken Historical Society meets Monday night to talk about the city's past. Welcome to history nuts and boozehonds alike, it's WAY more fun than a lecture.
Get Weird:

There are some things you can't experience anywhere but here, and in true Detroit fashion, most are free or cheap. If you can come to NAIAS via the airport, you're sure to pass the Uniroyal Tire, a -- you guessed it -- giant tire along the freeway. Keep your eyes peeled on I-94 for a glimpse of the imposing, 8-story tire, which was originally designed for the New York World's Fair.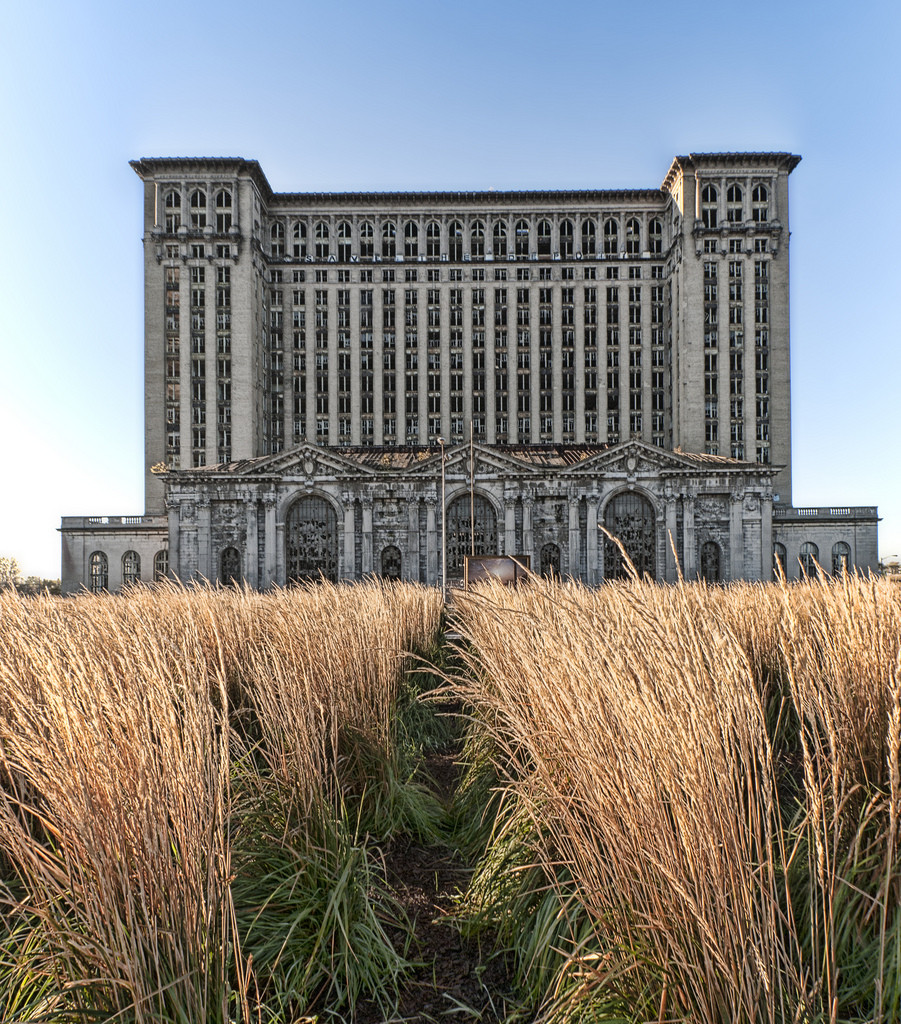 Flickr photo by Bob Jagendorf.
You may have heard of Detroit's abandoned buildings, or viewed oodles of ruin porn pictures online. But the towering, hauntingly beautiful Michigan Central Train Depot, an abandoned train station built in the 1910s, is worth seeing in person. No, you can't go inside, but you can drive past en route to ordering incredibly delicious and incredibly cheap tacos at staff fave Taqueria el Rey in Southwest Detroit.
And that brings us to the People Mover, Detroit's above-ground "train" -- though, let's get real, it shares plenty of similarities with the airport shuttle at Detroit Metro. The train runs a circular route through downtown until midnight on weekdays and 2 a.m. Friday and Saturday. It can take you between COBO and many downtown attractions. But for the whole 75-cent fare, it's worth checking out just to see the city from a new perspective.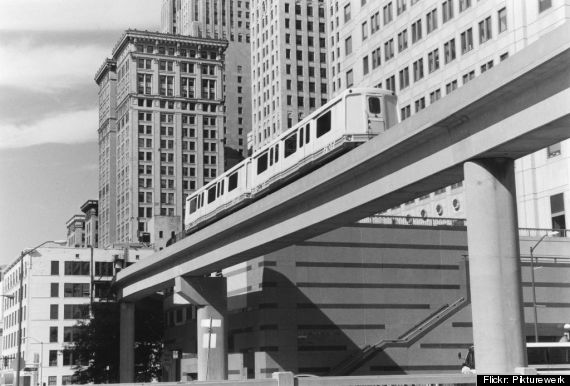 Flickr photo by Pikturewerk.
Last Advice:

While Detroit's crime rate can put tourists on edge, there's little to fear if you pay attention to your surroundings. The Downtown Detroit Partnership has more personal safety tips.
For the international journalists and globetrotters out there, remember: we drive on the right side of the road, tip our servers and bartenders around 20 percent (a couple dollars for hotel service workers and taxi drivers) and always say pop instead of soda.
For maps and any other information you could need, check out Detroit's welcome center D:hive, available online, on the phone and on Woodward Ave. in downtown. One Day in Detroit also has excellent tours mapped online.
We hope you enjoy the Motor City! Come see us again soon.
BEFORE YOU GO
PHOTO GALLERY
Stunning Detroit Homes For Sale