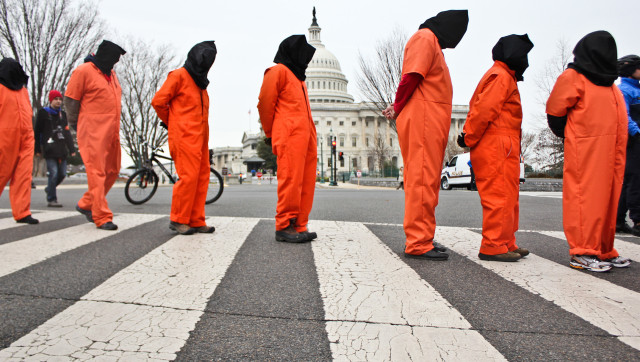 WASHINGTON -- Amnesty International on Friday marked the 11-year anniversary of the first detainees being sent to the U.S. facility at Guantanamo Bay, Cuba, with protests in front of the Supreme Court, a march on Pennsylvania Avenue and a vigil in front of the White House. Protestors wearing orange jumpsuits marched and held signs with detainee pictures and their names.
Earlier in the week, Amnesty International and 9/11 "Truthers" protested the premiere of "Zero Dark Thirty" at the Newseum for the controversial film's alleged endorsement of enhanced interrogation techniques.
Solidarity events were also held in Chicago, Dallas, Detroit, Los Angeles, Miami and London.
After his first presidential election President Obama said that he would close the camp by January 2010 but the detention facility remains in use today.
PHOTO GALLERY
Amnesty International Torture Protest
BEFORE YOU GO