Tommy Lee Jones is not impressed.
Jones looked decidedly grumpy while "Saturday Night Live" veterans Will Ferrell and Kristen Wiig did a bit before presenting the award for Best Actress in a Comedy or Musical.
The crowd erupted in laughter as Ferrell and Wiig attempted to describe the films starring each of the five nominees, but it soon became clear neither had watched any. They messed up plots and names, saying "Mariole Streep" must've played a great "Sassy Sheriff" in "Hope Springs."
But when the camera panned onto the "Lincoln" star during the hilarious skit, it was clear Jones wasn't amused.
Tommy Lee Jones laughing uproariously at Wiig and Ferrell.I'm told this is also his sex face. lockerz.com/s/276722136

— Seth MacFarlane (@SethMacFarlane) January 14, 2013
Congrats to Tommy Lee Jones for his brave fight against humor!

— Scott Aukerman (@ScottAukerman) January 14, 2013
I knew Tommy Lee Jones reminded me of someone! #goldenglobes twitter.com/RichardCrouse/…

— Richard Crouse (@RichardCrouse) January 14, 2013
Thus was born the "Tommy Lee Jones is Not Impressed" meme, celebrating the 66-year-old actor for his great McKayla Maroney impression, notes Mashable.
BuzzFeed's Ryan Broderick thought Jones bore a striking resemblance to Tard, the Grumpy Cat. Tard is famous for being the Internet's grumpiest cat and Jones sure looked like the Golden Globes' grumpiest attendee.
LOOK: Tommy Lee Jones is not impressed at the Golden Globes.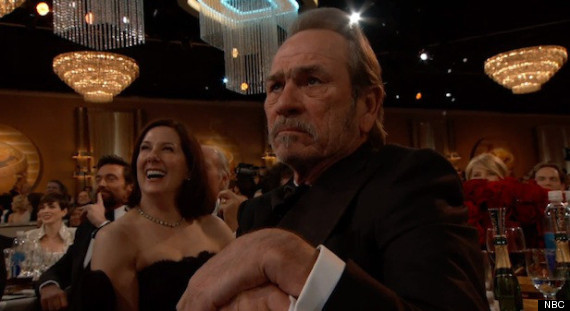 BEFORE YOU GO
PHOTO GALLERY
Funniest Golden Globes Moments