After 125 years of blossoming, Vincent Van Gogh's sunflowers may finally be starting to wilt. The iconic oil paintings have reportedly started to lose their vibrant shade as a result of the energy-efficient LED lights installed in art galleries and museums, according to the Telegraph.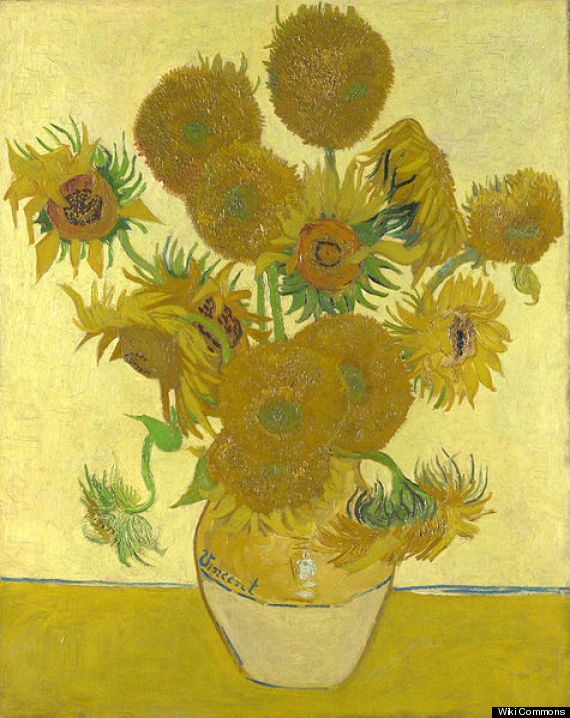 While LEDs have eco-friendly benefits, the Telegraph reports the alternative light source slowly changes the pigment to chrome yellow in some works, and certain shades like primrose and lemon have been exceptionally susceptible to fading. One painting boasting many of the vivid and vulnerable hues is "Vase with Sunflowers," which currently resides at the Van Gogh Museum in Amsterdam.
Letizia Monico, Ph.D. at the University of Antwerp, found green and blue light at the bases of certain shades of yellow which may cause discoloration. De Standaard's Sarah Vankersschaever explained Monico's results: "After only a few days of our tests they faded to brown and olive green."
Professor Koen Janssens added: "In a number of Van Gogh's paintings, the yellow has dulled to coffee brown -- and in about 10 cases, the discoloration is serious."
One work from the sunflower series, "Vase with Fifteen Sunflowers," sold in 1987 for $39.9 million in 1987 (the equivalent of $81 million today, adjusted for inflation). At the time, the sale tripled the previous record for most expensive work sold at auction. However, a source from the Philadelphia Museum of Art told the Huffington Post over the phone that "Vase with Sunflowers" is "priceless."
Many galleries and museums have been turning to energy efficient light sources in the past few years, both for the ecological benefits and for the sake of the art itself. But what is the overall cost?
Claus Habfast, from the European Synchrotron Radiation Facility in France, warned that the wilting could worsen: "Paintings that have moderate darkening will find this accelerates in the coming years," he told the Independent.
While LED lights are a great way for museums to go green, they may result in the beloved works turning brown.
UPDATE: Jan. 17 -- A response from Soraa, an LED manufacturer in California, contends that Xenon lamps, not LED lamps, were used in the research, and that "Xenon lamp spectra are vastly different than those of white-emitting LEDs for illumination, with the Xenon lamp including significant amounts of ultraviolet (UV) light in the UV-A, UV-B, and UV-C wavelength regimes."
See Van Gogh's sunflowers at their most vibrant in the slideshow below:
PHOTO GALLERY
Van Gogh's Sunflowers
BEFORE YOU GO