 For Facebook friends suffering from the flu, "nothing will make you feel better like finding somebody to blame." At least that's the sentiment that powers "Help: My Friend Gave Me The Flu," a new Facebook app that tries to figure out which friend of yours gave you the influenza bug.
The app looks at your Facebook feed to see which of your friends have flu-like symptoms or are going to places they could contract the flu, and then cross-references that information with the people you're mostly likely to see, writes the Daily Dot. It then gives you a list of "suspects," ranked in order of how likely they are to have given you the flu -- highlighted in bright red, of course, and labeled with the word "Quarantine!"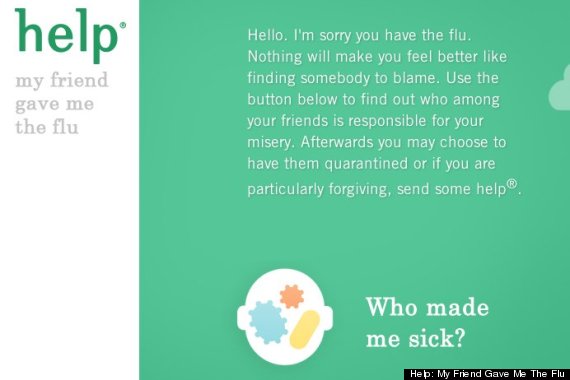 "I'm sorry you have the flu"
Of course, the program is far from perfect. The app, made by medical company Help Remedies, isn't very accurate; the Guardian calls it a "symptom witch hunt," and notes that "someone coughing openly next to you on the subway is probably not on your friends list in the first place." Trying it out may tell you which of your friends mentioned "stomach bug" or made "multiple late-night posts," but the app won't always recognize the obvious -- like which of those friends are thousands of miles away. Help Remedies CEO Richard Fine says the company is still tweaking the algorithm -- but even with less than stellar results, the app has apparently spiked traffic to the Help Remedies Facebook page, the Daily Dot notes.
If you're looking for a more accurate way to hunt down flu news, head over to the Guardian for more proven apps to check out. Want tips from those who know best? The Centers for Disease Control and Prevention runs an influenza page, where you can find health tips and check maps to see how widespread influenza is in their area.
BEFORE YOU GO
PHOTO GALLERY
7 Ways You Might Be Oversharing On Facebook