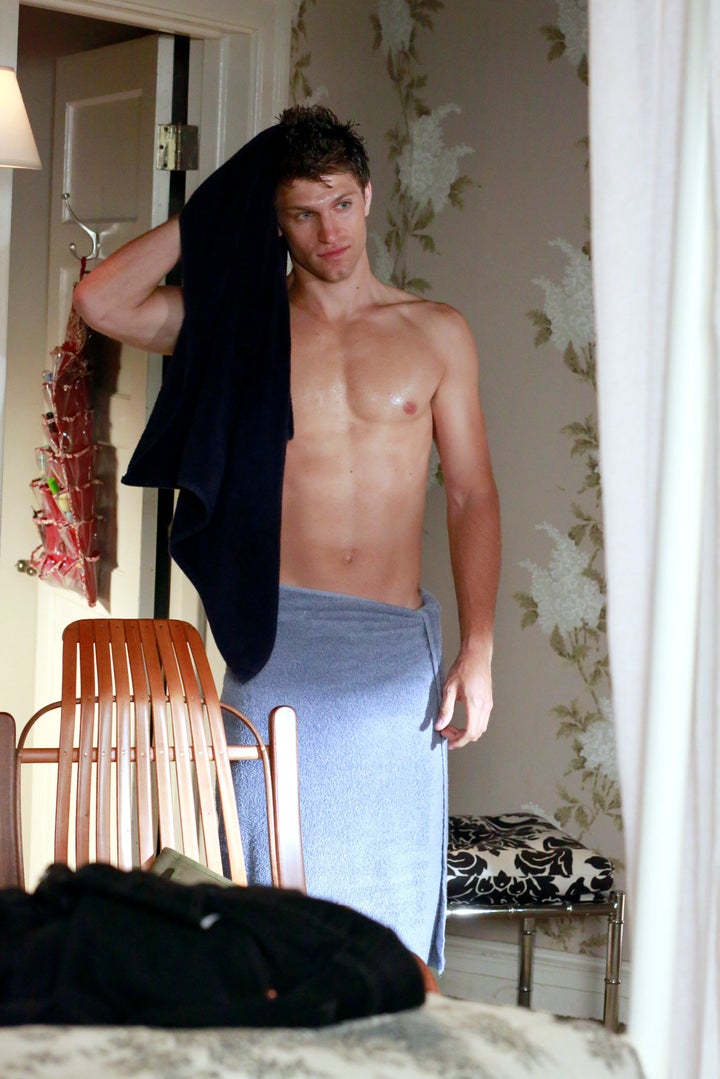 Keegan Allen, who plays Toby -- Spencer's (Troian Bellisario) boyfriend and newly-revealed member of the "A" Team -- couldn't reveal too much about the answer to that question when he spoke to HuffPost TV via phone to discuss the remainder of Season 3; but he did say, "This season, the collective 'A' pushes all the girls to their breaking points ... But what ends up happening with Toby and Spencer is shocking. It really is."
When did you find out that Toby was going to be part of the "A" Team?
I found out very early on in the season. I thought it was a joke at first because, as Marlene King ["Pretty Little Liars" creator] has stated often in interviews and in meetings with me, Toby was the moral compass of the show and he never told a lie. So when she told me that Toby was on the "A" Team, I was like, "Wow. Are you sure you want to do this because it's going to be chaotic?! People are going to go crazy." And she was like, "That's exactly the point. I want that." So I said OK. I was stoked. It was very exciting to hear that news. Everybody wants to play the villain.
So you knew before the rest of the cast did?
Yeah. I had to keep it a secret from everybody, including my own mother, for almost a year. Even at the table read, the script said, "And black hoodie turns around and it's …" It was just a blank. And everybody was like, "Who is it?" So I was like, "Yeah! Who is it?" [Laughs.]
Some fans wanted to believe that Toby wasn't really part of the A Team and he was just pretending to get some intel for the girls. But he is truly a part of that team, right?
Yes. It's not a trick. It's not a joke. I love that aspect of it. There's going to be so much in this season. Life in Rosewood is going to change after all this. It's great.
Do you know at what point in Toby's backstory that he became involved in the "A" Team?
Yeah. We do find out a lot. I do know why and it will became apparent within the next 11 episodes. There is so much there with this character. He had a four-episode arc when I first started this show. He was supposed to die in fifth episode of Season 1. We very quickly forget that in Seasons 1 and 2 this character was very not preferred by most of the residents of Rosewood. Everybody thought he was this murderous Boo Radley character. The cops were always on him [and] he had a very tumultuous family life. So he has all these layers and there are all these problems that he's dealing with ... What's going to be so shocking is seeing the aftermath of what we all learned. Because even in the Halloween episode, nobody knows that Toby is "A" except for the audience and Mona [Janel Parrish].
Knowing that Toby is on the "A" Team really makes viewers look back at what we've seen of Toby so far. Going back to the beginning, he had a great friendship with Emily (Shay Mitchell) and then he started dating Spencer. Are we to think that he's just been trying to get close to this group of girls any way he can?
We're forced to think about what his objectives are in becoming part of this team, but there's so much more that's going on. Mona, who's also part of the "A" Team, is cleared from Radley and she's back at Rosewood High and it forces you to go, "Is she really cured or is she just tricking everybody?"
This season, the collective "A" pushes all the girls to their breaking points and Emily's dealing with murdering Nate [Lyndon James], Hanna's [Ashley Benson] dealing with a lot of family issues and Ezra's [Ian Harding] past is messing with Aria [Lucy Hale]. But what ends up happening with Toby and Spencer is shocking. It really is. It's shocking where Troian takes this character because she's dealing with someone very close to you completely betraying you.
We know about Toby's very twisted relationship with Jenna (Tammin Sursok), but we've never really seen their parents or much of his backstory. Will we see more of his home life in flashbacks in Season 3?
I know a lot about his backstory and I always tell the writers we should tell the audience about this so that people understand. And they're always like, "No, no, no." I think they're saving it because it's twisted. I mean, it's really bad. In Season 1, people would go over to the Cavanuagh house and it'd be so dark and dreary and no one was ever home. The parents were never around and Toby is just like this transient who travels from city to city to take work and Jenna's blind and it's just this whole disaster. We kind of get a glimpse of it ... Maybe in Season 4 it will be touched upon in a more clear way.
Do you know how many members there are of the "A" Team?
I do know. The answer to that will probably be revealed in the Season 3 finale. The show is very much driven by the fans and we really listen to social media. We take so much from them. We see what they want and we try to deliver that, but also at the same time, flip it on its ass. We will do that a lot in the second half of Season 3.
The show makes audiences uncomfortable, but they're addicted to it. I feel like it's a Stanley Kubrick, kind of "The Shining" feel because when you're watching it, you're entertained, yet you're still very uncomfortable because you're always disoriented, but trying to live vicariously through these characters. Everyone knows where they're going in the journey of the story, but there's so many branches that veer off, like Byron and Alison, and it's so discomforting, but so magically enthralling.
Melissa (Torrey DeVitto), Spencer's sister, returns in the second half of Season 3 and people have long been suspicious of her being a part of the "A" Team. Can we expect any interactions between her and Toby?
There might be. All of the characters interact with one another at some point, regardless if it's part of some pivotal plot movement or if it's just in passing. But Melissa is back and it's pretty astonishing what happens.
Did you get to work with Missy Franklin at all?
No. I wish I did. She actually called me. She got one of our PAs to call me and I was like, "Oh my god!" I was talking to her for 15 minutes. She was like, "Oh my god! I'm so stoked to talk to you." I was like, "You're stoked to talk to me? I'm stoked to talk to you!" I was stunned. She's so young and yet, she sounded so mature. She was fangirling and I was fanboying. It was so cool. She's amazing. I think the world of her. She's so, so talented and such a driven soul. We're all very, very grateful that she took the time to be on our show.
Anything else you want to tell fans about the rest of Season 3?
It's gonna be frickin' wild.
Find out Toby's fate when "Pretty Little Liars" Season 3 airs on Tuesdays at 8 p.m. EST on ABC Family.
PHOTO GALLERY
Midseason 2012-2013
BEFORE YOU GO