In a tech landscape where we too often obsess over incrementally-improving speeds and specs of our cell phones and smart televisions, it's always refreshing to meet a company looking to solve actual, real-world problems.
Case in point: At the Consumer Electronics Show in Las Vegas earlier in January, we ran into Gecko Health Innovations, a young startup hoping to ease the difficulty of managing children's asthma with a simple, but brilliant, gadget. It's called the GeckoCap, and it's a small, Bluetooth-enabled rubber accessory that you can place atop your child's inhaler. The cap contains a tiny, colored LED light that starts flashing when it's time for your child to use the inhaler, and that will not stop until he or she does.
When pressed down, the GeckoCap transmits usage data to the GeckoCap website via Bluetooth pairing, so that a parent or doctor can see from anywhere that the inhaler has been used, and enjoy the peace of mind that the child has used the inhaler when he or she was supposed to.
Smart, right?
The GeckoCap was dreamed up by a team of MIT-associated pediatricians, engineers and designers, led by Dr. Yechiel Engelhard. The device is currently in the prototype phase, with a target launch date in September 2013. To reach that goal, the team has launched an IndieGogo fundraising campaign to mass produce the devices and to fund the registration process with the FDA and other regulators (which can be quite costly).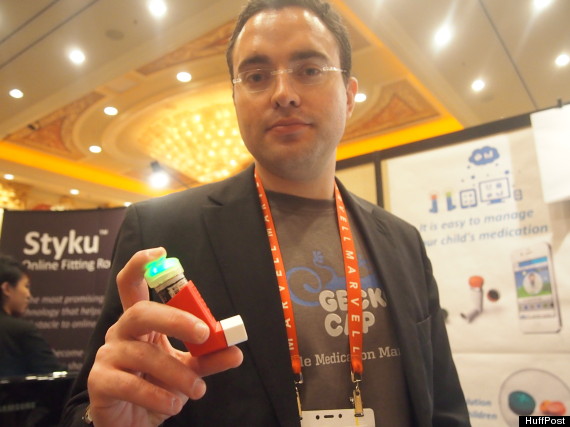 Dr. Yechiel Engelhard holds the GeckoCap. The former physician had the initial idea for the gadget after meeting parents who were concerned that their children weren't using their inhalers while at school or while they were away from them.
Once it launches, the device will cost $60, but those interested can nab one for $39 if they pledge funds to the Indiegogo campaign. In addition, it will also cost "less than $10" per month to access the accompanying web app, which helps you track your child's inhaler usage and also set the GeckoCap's schedule.
Here's a video put together by the GeckoCap crew, which should give you a better idea of how the device works, and why they think it's important for parents of kids who use inhalers:
The GeckoCap tracking system, available as a website, acts as a comprehensive catalog of inhaler usage and is the planning and analytic hub for parents of kids with asthma. The app displays the precise times the inhaler was used and the amount of medication left in the canister. On the site, parents or doctors with access to the app can input the reason for use (asthma attack, shortness of breath, allergy, etc.) and how the patient felt at the time he or she used it.
The result is a clean, comprehensive rundown of your kid's inhaler use over a day, week or month. Dr. Engelhard told me in an interview that the GeckoCap is aimed to both appeal to children (it comes in several different vibrant colors, and kids are awarded badges and trophies for consistent use) as well as parents. Dr. Engelhard noted that divorced couples have been especially enthusiastic about the GeckoCap, since it allows them to track their kids' inhaler use when he or she is with the other parent.
The biggest problem with the GeckoCap, at this point, is that it does not yet exist. Dr. Engelhard and the GeckoCap team hope to raise over $90,000 on Indiegogo in order to make their device a reality (without seeking out funding from a venture capital firm). $90,000 is a tall order, especially for a product that then asks backers to pay a monthly fee for use. Most buyers, however, will get a free app subscription of six or nine months, according to the Indegogo site. Dr. Engelhard added that he hopes the wide appeal of the GeckoCap -- over ten million children in the United States are affected by asthma each year, per GeckoCap's Indiegogo site -- will give his product a broad-enough customer base to push the innovative inhaler cap over the funding line.
If you're interested, you can pledge money and reserve your own GeckoCap at its Indiegogo page here. You can also learn more about the GeckoCap at its official website right here.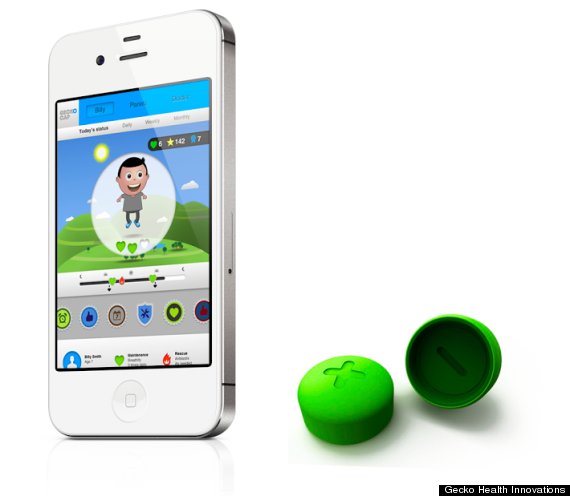 A rendering of the GeckoCap and its associated tracking application.
PHOTO GALLERY
The 17 Most Intriguing Gadgets Of CES 2013
BEFORE YOU GO