Notre Dame athletic director Jack Swarbrick was unwavering in his stance that Manti Te'o was a victim of the hoax involving his apparently fabricated late girlfriend, Lennay Kekua, that was first reported by Deadspin. The reactions among Te'o's teammates on the Fighting Irish team that went undefeated during the regular season, however, were not all as resolutely supportive.
Notre Dame safety Ezekiel Motta took to Twitter to defend the standout linebacker but two other players on the roster -- senior safety Chris Salvi and freshman tight end Nicky Baratti (who deleted his tweet) -- tweeted more ambiguous messages.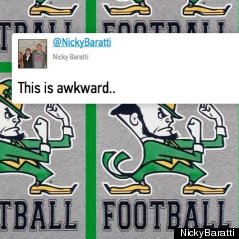 One anonymous Notre Dame player who spoke with Jackie Pepper, claimed that Te'o's teammates held suspicions about the nature of his relationship back in September 2012, when the story of Kekua's death after a battle with leukemia garnered national attention.
"He lied, but the media blew it up," the unnamed player told Pepper. This Fighting Irish player said he believed that Te'o could have initially been fooled into starting a relationship with someone who did not exist, but suggested that the Heisman finalist stuck with the story of his tragic relationship because he received so much media attention following Notre Dame's win over Michigan State, which came on the heels of the actual death of his grandmother and the fake death of Kekua.
At the other end of the spectrum, Irish lineman Grant Patton described witnessing Te'o supposedly receive the news of Kekua's death to Adam Himmelsbach of CourierJournal.com.
"He was distraught. It was pain personified. You could see that he was hurting. The whole locker room just went silent. At that moment I was just praying for him," Patton said.
Shortly after the Deadspin report rocked the college football world, Notre Dame released a statement indicating that Te'o "had been the victim of what appears to be a hoax." In a statement issued to ESPN.com, Te'o said how "painful" and "humiliating" it was to be the "victim of what was apparently someone's sick joke and constant lies."
Click HERE to read Te'o's full statement. Click HERE to read the full Notre Dame statement.
Scroll down to see how others reacted to the report of the hoax on Twitter.
BEFORE YOU GO
PHOTO GALLERY
Manti Te'o Hoax Reactions