The NRA is drawing attention for an ad that uses President Obama's children to hit him over gun control -- but the same ad also targets NBC's David Gregory, calling him an "elitist hypocrite."
NRA chief Wayne LaPierre had a tense interview with Gregory on "Meet the Press" after the massacre in Newtown in late December. (Gregory eventually got into trouble for brandishing an empty gun magazine, violating Washington, DC law in the process.)
"Mr. Obama demands the wealthy pay their fair share of taxes but he's just another elitist hypocrite when it comes to a fair share of security," the ad says. When the words "ELITIST HYPOCRITE" come on screen, a graphic of Obama is shown. Flanking him are Joe Biden, Michael Bloomberg, Senator Dianne Feinstein -- and Gregory: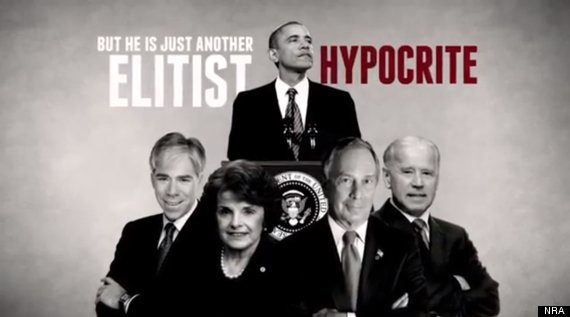 Gregory would probably not be on most peoples' lists of leading gun control advocates, but clearly the NRA is still smarting from LaPierre's interview.
BEFORE YOU GO
PHOTO GALLERY
Faces of NBC News