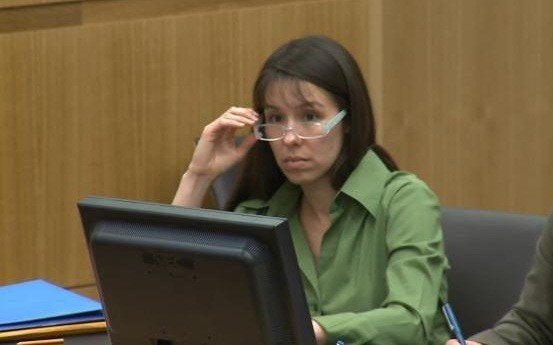 The state rested its case in the murder trial of Jodi Arias Thursday, and the defense made an immediate plea for dismissal.
Prosecutors in the Phoenix courtroom rested after brief appearances by Mesa, Ariz., police detective Esteban Flores, Sprint representative Jeff Strohn, and an acquaintance of Arias, Leslie Udy.
Flores took the stand long enough for the prosecution to play a voicemail recording of a phone call Arias placed to the detective after Travis Alexander's murder. In the message, Arias requested to speak with him about Alexander.
Arias, a 32-year-old photographer, is accused of shooting Alexander in the face, stabbing him 27 times and slitting his throat from ear to ear in the shower of his Mesa apartment on June 4, 2008. She has pleaded not guilty to murder, contending that she killed Alexander in self-defense. Prosecutors allege Arias was jealous and did not want Alexander to see other women.
After Flores stepped down, Strohn, an employee of Sprint Nextel Corp., took the stand to briefly discuss phone calls made from Arias' cell phone after Alexander's murder.
The most interesting part of the day came with the final state's witness, Leslie Udy.
A resident of Utah, Udy testified that she met Arias in September 2006 at a work-related conference in Nevada. Udy said Arias expressed concerns that Alexander was cheating on her. Later, when she met with Arias in Utah after Alexander's murder, Udy said she observed cuts on Arias' hand, which the defendant attributed to a broken glass. Udy said Arias never told her she had killed Alexander.
During cross-examination by public defender Kirk Nurmi, Udy testified that Arias was a soft-spoken, gentle person and that she had trouble believing Arias could have killed Alexander.
It was obvious during redirect that prosecutor Juan Martinez was not very pleased with Udy's testimony regarding Arias' demeanor. In an effort to demonstrate to the jury that Udy did not know Arias as well as she might think, Martinez showed Udy photos of a nude Arias posing in sexually explicit positions and asked her if she knew about that side of Arias.

Udy replied, "No."
Martinez then showed Udy a photo the prosecutor alleges was taken during the murder -- a photo he claims shows Alexander in a pool of blood near Arias' leg. He asked Udy if she was familiar with the pants Arias was allegedly wearing in the photo.
Martinez then announced that the state was resting its case.
The prosecution testimony lasted less than an hour on day nine of Arias' murder trial.
JODI ARIAS TRIAL PHOTOS: (Article Continues Below)
PHOTO GALLERY
Who's Who In The Jodi Arias Case
Once the jury was escorted out of the courtroom, Nurmi filed a motion asking for dismissal of the premeditation charge. According to Nurmi, prosecutors had failed to present evidence of premeditation and therefore a reasonable jury could not convict Arias on a charge of premeditation.
Martinez voiced his disapproval of the motion, arguing that Arias had gone to great lengths to plan Alexander's murder. Martinez said Arias staged a burglary of her own home, rented a car, and brought a gun and a knife to Alexander's home.
Judge Sherry Stephens said she would review the motion.
While there will likely be some criticism of the prosecution's decision to pull up stakes on day nine, without presenting additional evidence or witnesses, Seattle lawyer and legal analyst Anne Bremner said she feels the state did an excellent job presenting the case to the jury.
"I think that the state has done well," Bremner told The Huffington Post. "They built their case step by step. They showed Jodi's lies and depravity. They showed her obsession. They showed her lack of remorse. She confessed. They have a dead body."
Bremner added, "In the Casey Anthony and O.J. Simpson trials, the DAs took far too long. They overtried their cases trying to anticipate any criticism or defense. As a result of that, they bored the jurors, obfuscated the issues, diluted their own powerful evidence and ultimately lost."
If the defense motion for dismissal is denied, Arias' lawyers will begin presenting their case at 10:30 a.m. on Jan. 29, according to a Maricopa County Superior Court spokesperson. If convicted, Arias could face the death penalty.
BEFORE YOU GO
PHOTO GALLERY
Travis Alexander - Jodi Arias Crime Scene And Trial Photos