Michelle Obama está celebrando este jueves su cumpleaños número 49 y lo hace acompañada de grandes cambios. Por un lado, la primera dama de Estados Unidos estrenó hace unas horas su nueva cuenta de Twitter, @FLOTUS (que no son mas que las iniciales de "First Lady Of The United States"). Por otro lado, la esposa de Barack Obama aprovechó este nuevo perfil en línea para publicar una fotografía con lo que parece ser su nuevo peinado con fleco.
En Twitter ya existía la cuenta @MichelleObama, pero esta era administrada por el staff de la campaña de 2012 de Obama, y no por ella. En contraste, y de acuerdo con la propia descripción de la nueva cuenta, @FLOTUS será administrada por la Oficina de la Primera Dama. En ambas cuentas, aquello que sea posteado por la propia Michelle Obama, va acompañado de la firma "-mo".
Aquí el tuit que inauguró esta cuenta:
The @flotus Office is now on @twitter & will post updates & pics. When it's her, she'll sign -mo. PS: RT to wish Mrs. Obama a #HappyBirthday

— FLOTUS (@FLOTUS) enero 17, 2013
Un par de horas más tarde llegó el segundo tuit desde @FLOTUS, mismo que venía acompañado de una fotografía que sorprendió a muchos. Se trataba ni más ni menos que de Michelle Obama luciendo un nuevo estilo de cabello: un corte con fleco.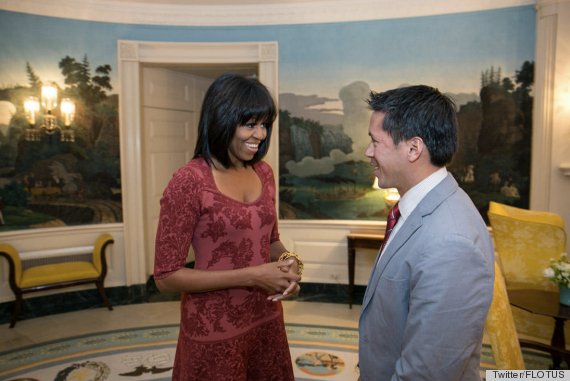 ¿Cuándo se habrá cortado el cabello? ¿Será que cambió de imagen para sentirse distinta en este nuevo ciclo de su vida?
PHOTO GALLERY
BEFORE YOU GO
Fotos de Michelle Obama
PHOTO GALLERY
Fotos de Michelle Obama
RELACIONADO EN HUFFPOST VOCES: