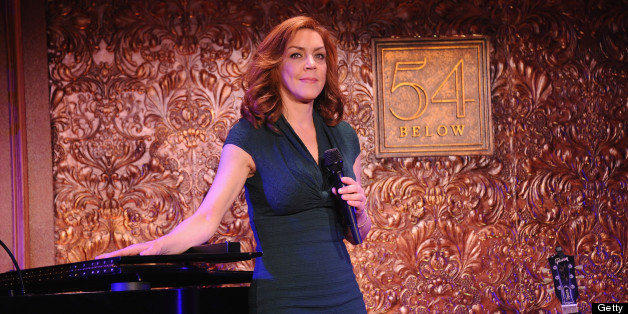 In 1977, Andrea McArdle cemented her role in Broadway history when she opened her mouth to croon "Tomorrow" to a standing room-only crowd of enraptured theatergoers.
Thirty-six years later, the original star of "Annie" isn't just back, she's on a full-scale creative blitz. With a stellar New York cabaret act and two all-new albums in the works, the 49-year-old theater legend seems poised to win the hearts of an entirely new generation of musical fans. And that's not to mention her forthcoming turns in not one, but two regional productions of Jerry Herman's "Mame," set to open this spring.
These days, however, McArdle's primary focus is on "70s and Sunny," the cabaret show she premiered to great acclaim at New York's 54 Below nightclub last year. The show, which features an eclectic mix of Broadway showtunes along with McArdle's takes on songs originated by Billy Joel and Karen Carpenter among others, returned to 54 Below on Jan. 17 and runs through Jan. 19. (McArdle's performance will also be immortalized with a live album, currently slated for a February release.)
After belting a chilling rendition of Stephen Sondheim's showstopper "Being Alive," the ever-charming McArdle spoke to The Huffington Post about her 54 Below act, the legacy of "Annie" and why she misses the Manhattan of yesteryear.
New albums, new roles, cabaret shows -- you've really been on a roll lately!
I had such a huge amount of early success and played some of the best roles written for ingenues on Broadway. But I never really thought of myself as an ingenue -- I think I was an ingenue because I played Annie. For instance, I was never Rizzo, I was always Sandy in "Grease." But everyone who knows me personally knows that I'm a total Rizzo. (laughs)
So I think I'll have my chance to finally play the roles I was born to play now -- we're talking Mama Rose [from "Gypsy"], Auntie Mame [from "Mame"], Mrs. Lovett [from "Sweeney Todd"]. So I'm just entering into that stage now. I'm diving back in. It's hard when you hit so big so early -- you have to re-invent yourself many, many different times.

You've spoken a lot over the years about having to come to terms with the "Annie" legacy, specifically when it comes to singing the song "Tomorrow." What has that journey been like?
I made my peace [with "Annie"] a long, long time ago. I did have some sensitive months, maybe a year or two where I was adolescing … it had nothing to do with "Annie" or the song per se, but when you're adolescing, you're just really not a pleasant person to be around. But working with Carol Channing, for instance, really set me straight. She said, "Don't ever make fun of that song! Don't ever say anything negative! You have a song that's called your own."
Of course I didn't think anything of it when Barbra Streisand came backstage during the original production to ask me if she could record the song, but then 10 years later, I thought, "That's really pretty cool."

What do your own memories of hitting Studio 54 entail?
Oh, I have a bunch! (laughs) We had the same bouncer at "Annie" -- we used to call him "Big George," and he was just the most beautiful guy on Broadway, he was just a wonderful old school gentleman. He was also the head of all the bouncers at Studio 54, so we would be in here a couple nights a week … [with] Michael Jackson, Bianca Jagger, Andy Warhol, Grace Jones … and I thought that was a normal Thursday night for all kids; I had no idea. For me that was normal.
It's interesting trying to imagine Little Orphan Annie at Studio 54!

The beauty of it was I didn't know how high the stakes were, but it really was an incredibly fun journey. And even with the sauciness of it all, there was a real innocence to the '70s, and that's really what my show is about. If you weren't in New York, you couldn't be a part of it.
Now it's just so different. It's a little impersonal … do I crave the old school ways and days? Absolutely … we'd walk down the street and there'd be Gwen Verdon, Anne Bancroft, Mike Nichols and Mel Brooks walking down the street from Zabar's. It was just a really tiny community, but they were all like extended family to me. That's what I treasure the most.
Is there a specific song or segment in your show that you're particularly excited about?
It's all about what inspired me in the '70s, whether it be Sondheim, Jerry Herman, Billy Joel, Karen Carpenter or Barbra Streisand. We're actually doing Michael Jackson's "Got To Be There" -- I think I sang that for a year straight, probably like other kids sang "Tomorrow" and drove people crazy. "Meadowlark" [from "The Baker's Wife"] is a new one I'm tackling, too. It feels good to put your mark on a song that's been all over, and I now consider it one of my favorite songs to sing. This is the first act that I've picked out all of the songs for.
You're also gearing up for another new album, "Calendar Dream." What will that entail?
We're actually gearing up to start recording the album. My friend Scott Logsdon was up late one night and was doing the anagram thing -- "Calendar Dream" is an anagram for my name. He started contacting people like Tim Rice, Alan Menken, Maury Yeston, John Kander and Cyndi Lauper … and they all responded! Now that I've heard the material, I feel very lucky. I've been waiting a long time to be handed a project like this, so I have a very good feeling about it.
Finally, what do you hope the 54 Below audience takes away from your show?
I hope they take away a little piece of the '70s!
Andrea McArdle's "70s and Sunny" plays New York's 54 Below from Jan. 17-19. For more information, click here.
BEFORE YOU GO
PHOTO GALLERY
The Best Of Andrea McArdle