What's on President Barack Obama's desk?
We're guessing some very classified papers, secret buttons and the like. But of more interest to us, it seems that when he's tied up on the phone, he reaches for an object dear to Michiganders. We're pretty pleased to see Obama holding a Petoskey stone in this December photo from the White House Flickr stream.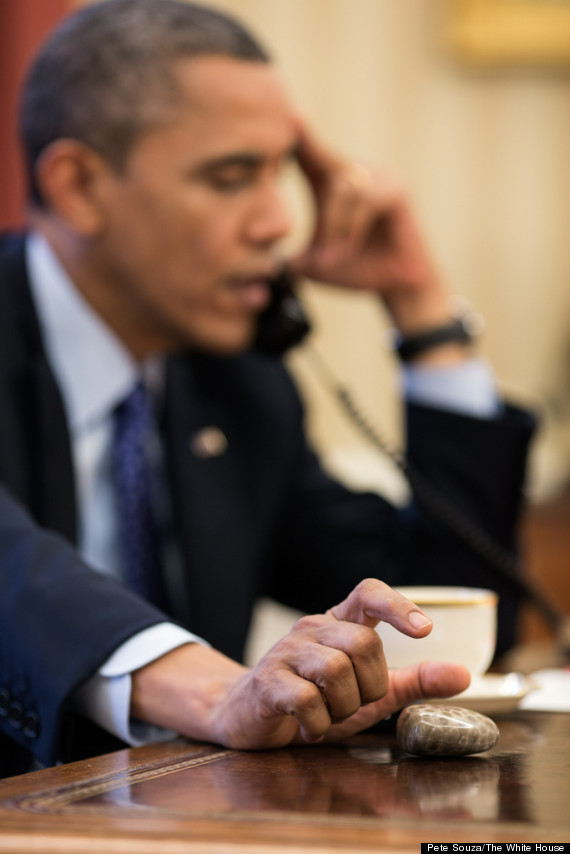 White House photo by Pete Souza.
The Petoskey stone is actually a fossil, most often found by rock hunters on the shores of Lake Michigan. More importantly, it's the state's official stone. None other than Governor George Romney, father of Mitt, signed the bill on June 28, 1965.
White House photographer Souza shared the photo on Twitter Friday:
Want to know more about Petoskey stones? Check out the state's website for some ideas of where to find them once it gets warmer. They also get into the science:
Petoskeys are actually petrified coral, leftover fragments of the reefs that existed 350 million years ago during the Devonian Period when salty warm-water seas covered the northern half of the state. Eventually layers of sediment covered the Hexagonaria coral and its distinctive six-sided pattern was preserved when the sediment was compacted into stratified rock.

There are Petoskey stones lying on beaches from Frankfort to Alpena. But when glaciers carved out Little Traverse Bay, they hit the motherlode: a strata outcropping that results in thousands of Petoskeys washing ashore every year.
We don't know if Obama is familiar with the stone's Devonian Period background, but we're glad to see this Oval Office nod to the Mitten State.
BEFORE YOU GO
PHOTO GALLERY
Obamas Fist Bump Their Way To Four More Years