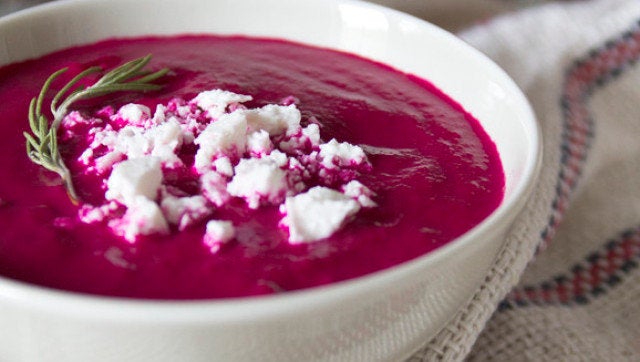 Borscht gets a bad rap. Even though we love it, it sometimes still conjures up strange visions of canned beets, shockingly red soup from a jar and weird, grown-up foods that we never understood. It's time to give borscht another try.
Think of those beet salads you've fallen in love with and why you like them so much. Firstly, beets are delicious -- their delicately sweet, earthy flavor is something we like more every time they have them. Secondly, you feel good after you eat them -- they are healthy without really being "health food." Third, those lovely beet salads usually involve goat cheese, or feta or some other creamy element that brings things all together. That is what the traditional dollop of sour cream in borscht does. So now, just imagine that lovely beet salad you've grown so fond of, just in a new suit -- a hearty, warming, fortify you from the cold elements kind of soup. You're about to find your new favorite borscht recipe.
Borscht can be hot, cold, thick, thin and sometimes borscht doesn't even need to have any beets at all. We also found a few recipes for our other favorite kinds of borscht: sorrel and dill-flecked green borscht and hearty with potatoes and sausage white borscht. Get your borscht on, guys. It's fun, we promise.
PHOTO GALLERY
Borscht Recipes
BEFORE YOU GO