Let's just preface this by saying that we friggin' adore Emma Stone.
But when we first saw a leaked of her new W magazine cover last week, we had a million questions, including: is that Emma Stone or a Fanning sister? Is she wearing just a bra or one of those trompe l'oeil bra tops by Margiela? And what is with that hair?
Or, as Fug Girls expressed it, "This looks like a photo some girl texted to her boyfriend six hours before Prom." What's going on here?
Today the full cover story has arrived and we've come to some conclusions. Emma is a young adult in Hollywood, meaning she's always trying to prove she can be as edgy and sexy as she is sweet and funny. The cover shoot was also lensed by Juergen Teller, who's made his name shooting Elle Fanning and other celebs for Marc Jacobs' rumpled, poorly-lit ad campaigns. Should we be so surprised Emma was styled to look like a confused 16-year-old... waking up in what looks like a cheap motel?
Sigh. If only the cover could've looked more like this.
Click to WMagazine.com to read Lynn Hirschberg's interview with Stone and to see more photos from Teller's shoot. What do you think of the cover photo?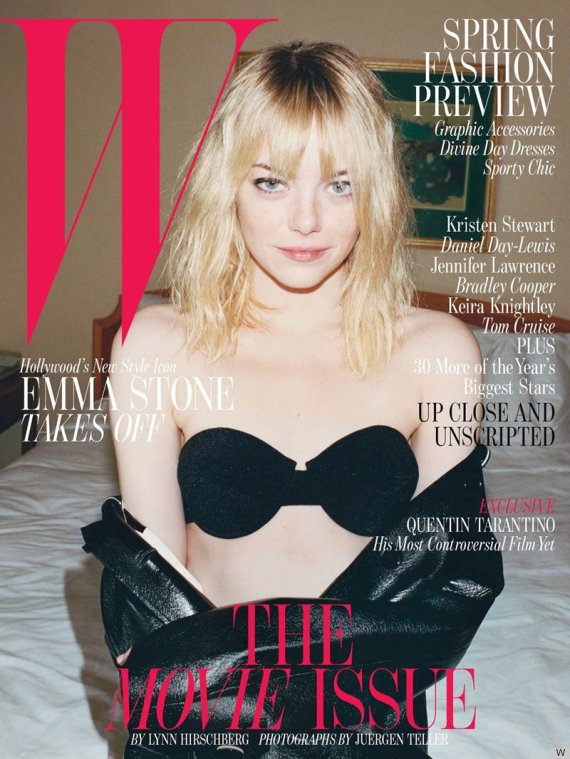 See more of the lovely Emma Stone:
PHOTO GALLERY
Emma Stone Style Evolution