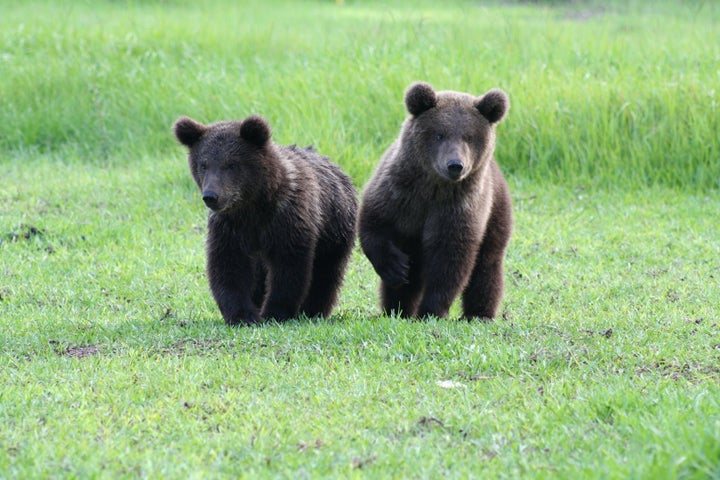 UPDATE, Jan. 18, 2:20 p.m.: Booboo the bear has been found. On Friday afternoon, "A Grizzly Experience," the business run by Booboo's owners, posted this message on their Facebook page: "Booboo is home safe and sound!"
Original story continues here:
According to ABC News, the 125-pound cub escaped on Tuesday afternoon from his home in Naples, Fla. As authorities continue to scour the area for the bear, residents have been "urged to use caution" until the animal is found.
"It's a large animal so, yes, they should exercise caution," said Carli Segelson, a Fish and Wildlife Commission spokeswoman, according to the News-Press of southwest Florida. "Don't approach the bear. It was somebody's pet, so that can go either way. A pet is used to people, but it's probably scared. It's away from its sibling."
Together with his brother Yogi and an adult bear named Tonk, Booboo lives on the property of Dexter and Megan Osborn -- a couple who operate a licensed business called "A Grizzly Experience," described on its website as an "entertaining and educational show and exhibit" featuring "real" grizzly bears. The bears, who have been trained to become animal actors, are said to live in a "2-acre habitat where they can roam, swim and play all day."
"Please call…with any sightings of Booboo," said a recent post on the business' Facebook page.
According central Florida's WFTV.com, investigators say that they still don't know how Booboo escaped. They've asked that residents remain vigilant as the search for the cub continues and to inform the Fish and Wildlife Commission or local law enforcement if the animal is spotted.
According to National Geographic, grizzly bears are "powerful, top-of-the-food-chain predators." Though they usually subsist on "nuts, berries, fruit, leaves and roots," they are also known to eat other animals -- even large ones, like moose. Grizzlies are not typically known to attack humans; however, they will get aggressive if they are "surprised" or feel threatened. They are also known to run at speeds of 30 mph or more.
Though they once lived in abundance in much of western North America, grizzly bears are now a threatened species. Due to hunting, habitat destruction and other damaging human activities, there are only about 1,000 grizzlies that remain in the continental U.S. today, according to National Geographic.
BEFORE YOU GO