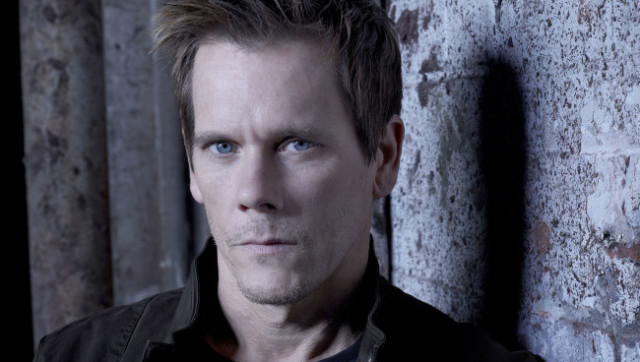 "The Following" is bringing viewers a weekly dose of Kevin Bacon busting bad guys in a dark, twisted type of series.
The series premieres on Fox on Monday, Jan. 21 at 9 p.m. EST and it's already been getting rave reviews, including here at HuffPost TV where we called it "the best new show of the season."
The series follows retired FBI agent Ryan Hardy (Kevin Bacon), who is pulled back into the Bureau after the escape of notorious serial killer Joe Carroll (James Purefoy), a murderer that Ryan apprehended 10 years previously. Joe has a far more nefarious scheme in mind than simple escape, and this time, he's not working alone, leading Ryan on a deadly cat and mouse chase as he attempts to get ahead of Joe and his followers before the body count starts to rise again.
At the recent Television Critics Association Winter Press Tour, HuffPost TV sat down with Kevin Bacon to discuss what lured him towards a TV role, how Ryan and Joe's twisted relationship will develop, and what viewers might find unexpectedly compelling about the new series. Light spoilers ahead.
On the TCA panel, you mentioned that you'd been looking to get into television for a while. What was it in particular about this script and this role that attracted you?
I liked the heroic aspect of the character in combination with the vulnerability, the damage, the complexity that he has. He's a guy that's hurting, so he's not your cookie-cutter hero-hero. I liked the fast paced, page-turning part of the show, and it had a lot of surprises for me. And I thought, well, if you could make a show that becomes the type of show where, on Tuesday, people are standing around the watercooler going, "Shit, do you believe what happened?" that would be something that would be cool to be a part of. And I was looking for something with high stakes, life and death.
You and Kevin Williamson have described the show as a kind of unexpected love story, for various reasons -- in Ryan's case, because of his connection with Joe's ex-wife, Claire (Natalie Zea). Can you discuss that aspect of the story?
I feel like what draws me in is not the scares and the violence. I think that it should be scary, because that's why people are going to watch it -- they're not going to watch it because they want to laugh -- but what really interests me and what pulls me in, is characters and relationships. Like the relationship with Joe and the unfolding of what we can learn about Ryan through this relationship with Joe. The relationship with Claire; to actually have this one great love affair in your life be a love affair that you really just should not be in. The one person that you definitely shouldn't be with is the one person that you really are in love with, and that's kind of an interesting idea ... All this stuff is, to me, what makes a show more compelling than just the scares.
When we meet Ryan in the pilot, he's kind of a mess -- arguably an alcoholic, with a pacemaker -- he's obviously not on his A-game. How much of Joe's cat and mouse routine with him is just an attempt to get him back to fighting weight again? It seems as though he can't fulfill his role in Joe's "sequel" until he's a worthy opponent, in a way.
Funny you say that, because I was just looking at some of episode 111 and it really plays into that, a lot. But it seems like every time you see us, he's giving me a little bit of a pep-talk. It's messed up. Yeah, I think that's Joe's thing. The other thing is that, sadly, in some ways, the time that I am the most alive is the time when I'm the closest to him -- the closest to finding him or tracking him, or just about to find him, or getting close to his wife, or whatever. That two-year stretch there [between hunting him and putting him in jail], it's kind of the best years of my life. So, when you see me at the beginning of the pilot, I think it's like I'm trying to get that back, trying to get that mojo back.
We pick up 10 years after Ryan captured Joe, so there's a lot of lost time to catch up on. Can you talk a little about what life was like for him after he took Joe down?
Well, he went into [writing the Joe Carroll] book ... and I think it was a mistake. The FBI does not really like it when agents write or go on TV as talking heads, I know this for a fact. So, that move kind of got me a little bit of money but it also alienated me from the one family that I had, which was the FBI, and I think there's been, really, just a downward spiral. We're seeing more of that [with what we're filming] now. I do have some friends. I do have some other relationships, but I'm kind of a mess.
The show also features plenty of flashbacks to help flesh out every character's backstory. Can you talk about the process of playing Ryan in different time periods?
Well, it's kind of great because ... sometimes flashbacks can be a little bit of a cheap shot, I think, and you affect them and make them look a different way ... But I feel like Kevin's [Williamson] really done what has been great with them, because he's been showing different layers of characters and characters' relationships that we really wouldn't be able to show in the present, and we would be forced to talk about things, and it's so much more active, as an actor [to play them]. I love doing the flashbacks stuff because, in a way, I get to play another guy. He's lighthearted and I can stand up and I can walk and I look better. I even become a different person when I'm shooting that on the set. I'm joking with the crew and we're telling jokes and it's fun and then I step back into the present stuff and I just can't be that light because there's just so much [weight on his shoulders] ...
In terms of creating a backstory for Ryan, was that something that Kevin Williamson had already thought up, or was it a more collaborative process between the two of you?
Well, I write a backstory for every character and I did for this character. I start with whatever is on the page but the only thing I had was the bio. Then, I sit and do my own research and I just start making shit up and then, I sent it to Kevin because [you don't want anything to contradict], basically just saying, "Am I on the right page here?" Because rather than me doing a long interview with him and saying fill in the blank, fill in the blank, fill in the blank, I wanted to say, "Look, this is kind of where I'm thinking." It's all kinds of stuff, about family, history, and religion, and likes, and dislikes, and schooling, and other relationships, and brothers, and sisters, and all of that shit, and he didn't say no. [Laughs.] So basically, that's what I go off.
Ryan's carrying a lot of guilt for Joe's actions -- when we meet him, it seems like he's paying penance for creating this monster, in a way, even though Joe was already a killer before they met. How does Ryan feel about himself; what does he think he deserves when all's said and done?
I mean, it's a terrible thing to say, but I think, sometimes, he thinks he deserves to die. It's a tremendous amount of guilt surrounding this character, because he feels like he's the reason why all this is happening and Joe keeps telling him that. He tells me that again and again and again: "Look, this is your story, I'm just telling it. I'm just telling you the story. You're the main player." That's tremendously guilt-provoking and I know that there are times when he feels like, "If I wasn't here, he would stop." [I think] that's the end game, to kind of drive me nuts, and we'll find out if that is his end game. I don't know.
"The Following" premieres Monday, January 21 at 9 p.m. EST on Fox.
Will you watch "The Following"? Share your first impressions below!
PHOTO GALLERY
New Fox Primetime Series
BEFORE YOU GO