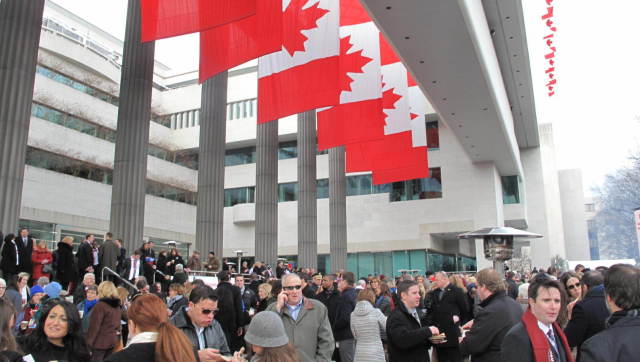 WASHINGTON -- North American neighbors celebrated President Obama's second inauguration with a tailgating party at the Canadian Embassy on Monday.
The embassy, which sits on prime Pennsylvania Avenue real estate near the Capitol, opened its doors to visitors from around the world. Soldiers, senators, broadcasters and many others filled the courtyard, theater and conference rooms.
Most attendees drank Tim Hortons' coffee. Some adventurous folks attempted to stay warm with Crown Royal liquor and Molson beer. Poutine and BeaverTails (fried dough pastries topped with whipped cream, chocolate, butter and other toppings) stations maintained long lines throughout the day.
Canadian Ambassador Gary Doer, along with five members of the Royal Canadian Mounted Police, waved at President Obama as his motorcade drove past the embassy during the Inauguration parade. Attendees were given mittens with Canadian Maple Leafs on the palms and also waved at the president.
Participants tweeted about the event using the hashtag #ViewFrom501.
Click through the slideshow for scenes from the all-day event.
PHOTO GALLERY
Inaugural Parade Canadian Embassy Tailgate
BEFORE YOU GO