Anyone can tell you who's already made it, but HuffPost Arts & Culture's On Our Radar series is here to tell you who's about to blow up -- and, in some cases, go pop.
You've probably heard the buzz around Joseph Gordon Levitt's directorial debut, "Don Jon's Addiction." The film stars JLG himself as a porn-addicted casanova who begins to question his womanizing ways. Although the film stars Scarlett Johansson, Julianne Moore and Tony Danza as well as the almighty Levitt, we have our eye on the comedic up-and-comer playing Levitt's best friend. Jeremy Luke, known for his web series "Turbo and Joey," plays Levitt's friend, a Jersey bred club hopper who, where the ladies are concerned, takes what he can get. We talked to Luke about Facebook, fame and the unbelievable beauty of ScarJo. Scroll down for a slideshow of Sundance's hottest new stars.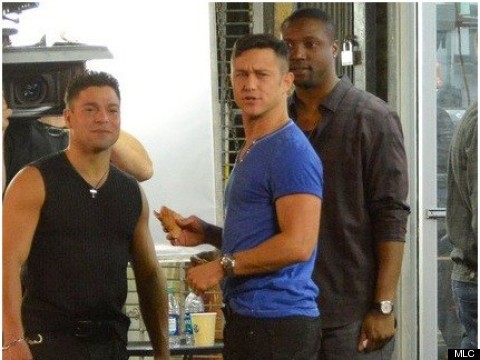 Jeremy Luke with Rob Brown and Joseph Gordon-Levitt, courtesy of Don Jon's Addiction
HP: Tell us about your character in "Don Jon's Addiction."
JL: I play Danny, Joseph Gordon Levitt's friend. Danny is the kind of guy who is in his late 20s, still going to clubs; he is a weekend warrior. His philosophy on women and dating is "go for the 2s and 3s, they're more open minded." Joe and I make a life out of going to clubs, objectifying women, and trying to pick them up.
HP: How did you wind up with the role?
JL: I was hanging out at this bar in my neighborhood and someone recognized me from my web show, "Turbo and Joey." This guy says he knows Joe and is looking for someone to play his best friend. They say they're looking for Jersey but I'm thinking it's going to be like "Garden State," so watered down. I wasn't expecting much, but I sent over some videos.
HP: The cast includes Joseph Gordon Levitt, Scarlett Johansson and Julianne Moore. What was it like to be surrounded by Hollywood's biggest stars?
JL: Scarlett Johansson is gorgeous. My scenes are primarily with Rob Brown, but man, she was stunning. I'm just a regular guy, so for me to be in the same room as Scarlett -- she was, like, so hot. And in the film she plays this character with kind of a trashy New York accent. When I was around her I just talked about my girlfriend a lot.
HP: Are you blowing up online?
JL: Yeah, a lot of Joe's fans are hitting up my Facebook wall and a lot of them are kind of weird. It's not like models, it's wackos.
HP: Who did you look at for inspiration when getting into character?
JL: To be honest, I looked at myself when i was 21, 22 years old. I'm sure there is a piece of that guy in all of us. Going out, objectifying women. Every guy has done it. It's a part of growing up.
HP: Does your character realize the error of his ways?
JL: Ha, nope. Joe's character realizes, but Danny has another five or six years.
HP: Your bio mentioned that you are more than just a Jersey boy. Do you think being from Jersey has helped your career or is limiting?
JL: Typecasting is a good and a bad thing. I get typecasted to play characters that are all, "Who's got the money?" BOOM! SLAP! "Joey's got the money!" But it gave me an angle. It gave me a way to work. But then again, I can do more than that; I've been acting for 15 years.
HP: How would your drama teacher describe you?
JL: He kicked me out of class. He was great, but honestly the real influence in my life was my acting coach in New York who gave me the inspiration to go out here to LA; it was not easy. I worked selling tickets for Dodger Stadium, I delivered pizza, I did every job under the sun. It's the part that sucks as an artist. But I've learned at the end of the day you just have to enjoy your life.
A lot of people just look at acting as a quick fix -- they don't have a work ethic. This is a job, it's not all margaritas on the beach.
See our slideshow of other Sundance faces to watch below.
PHOTO GALLERY
5 Faces To Watch At Sundance
BEFORE YOU GO