When San Francisco commuters commemorated the Muni's 100th birthday last month, there's one thing they forgot celebrate: the 100-year anniversary of Bay Areans endlessly waiting for the bus.
That changed this week, when Market Street Railway Archivist Alison Cant dug up a copy of the Muni's very first schedule for inbound street cars. The document is dated December 28, 1912, and though it appears to be written in hieroglyphics, take a closer look to decipher the timetable for the A-Geary line.
(SCROLL DOWN TO SEE THE FULL SCHEDULE)
Prior to the 1950s, Geary was home to numerous Muni streetcars. The A-Geary ran between Golden Gate Park, Geary and the Financial District. The line expedited the reconstruction of San Francisco's western neighborhoods following the earthquake of 1906, according to a report from Spur.org. Some credit these routes with attracting people to the densely populate areas in western Richmond.
The document shows Muni only had ten street cars on the line in 1912. Now, the agency boasts more than 40 historic street cars and 1,050 service vehicles in total, according to the SFMTA's 2010 Fact Sheet. Oh, how times have changed.
Don't get too excited about Muni improvements just yet. Turns out early 20th century travelers endured the same wait time as modern day San Franciscans. Back in 1912, the commute from Tenth Avenue and Fulton Street to downtown took 28 minutes. Today, the timing and scheduling is practically the same for the 38-Geary, which runs a similar route.
Let's hope the next hundred years brings us a little more progress.
Take a look at the original schedule below: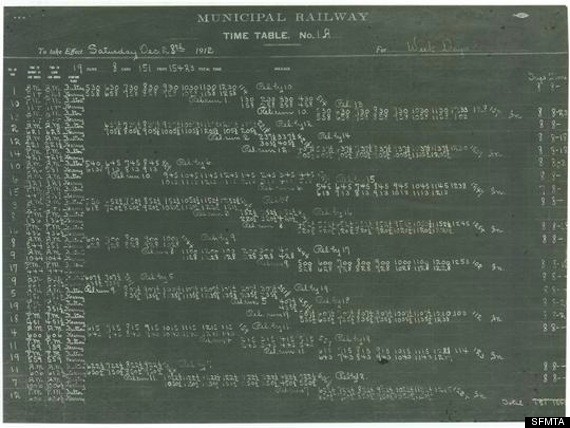 BEFORE YOU GO
PHOTO GALLERY
SF's Top 12 Stories Of 2012