Food Informants is a week-in-the-life series profiling fascinating people in the food world. We hope it will give you a first-hand look at the many different corners of the food industry. Know someone who would make a great Food Informant? Tell us why.
Ashley Palmer is the online marketing manager for People for the Ethical Treatment of Animals (PETA). Palmer oversees all of PETA's web projects, including the wildly popular "Sexiest Vegetarian" series of contests, online campaign initiatives, and celebrity features and videos. She got her start as the top coordinator for PETA Living, the lifestyle section of PETA's award-winning website, where her efforts resulted in a 1,100 percent increase in traffic to the PETA Living blog and accounts for 50 percent of all traffic to PETA.org. She lives in Los Angeles with her husband, Kevin, and two cat companions, Bo and Henry.
Read more to see what new initiatives PETA is currently working on.
Monday, January 7
8:00am: Our latest investigation breaks on PETA's website revealing hell on earth for animals at Chief Saunooke Bear Park (CSBP), a roadside collection of bear pits in Cherokee, North Carolina. PETA, with the help of legendary game-show host Bob Barker, is calling for the bears to be rescued.
11:00am: Time to get ready for this afternoon's Lettuce Ladies demonstration in downtown L.A., but I'm in a meeting with our Development team and it's running over. Good thing I'm working from home this morning and can multitask.
12:00pm: Our world-famous Lettuce Ladies make an appearance at L.A. City Hall. I help the lovely ladies by handing out vegan starter kits and free vegan sandwiches to passerby. We encourage people to "turn over a new leaf" by going vegan. The city recently declared that it would participate in "Meatless Mondays" and was named PETA's "City of the Year."
12:20pm: Only 20 minutes in, and we're out of vegan sandwiches! We pose and take pictures and continue to pass out free vegan starter kits for another 40 minutes.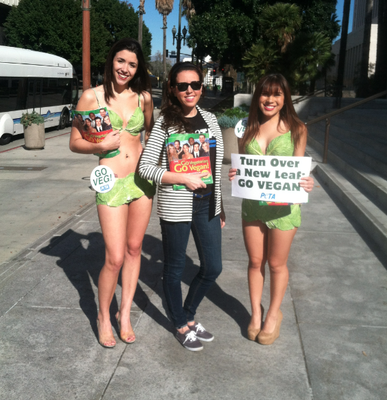 1:35pm: We're discussing the fact that people often misuse the phrase "animals don't have a voice." In reality, animals do have a voice; they use it well and often. The problem is that humans just don't listen. We end on a high note and decide to move forward with a variety of online elements to help spread this message and to teach people how to listen to what their dogs and cats are saying.
2:00pm: Another brainstorming session to plan out some upcoming promotions for PETA merchandise. We have some cute new T-shirts in the works and lots already available online. I'm really digging the "Only Bullies Wear Bunnies" pullover.
2:45pm: I have a short break in meetings, and I use this time to get caught up on some computer work. I've compiled Wednesday's weekly Living E-News and recipe text, and work on adding our newest content to the PETA homepage. While we are a nonprofit organization, we tend to operate more like a news site since we have so much new content every single day.
3:00pm: Time for the daily "afternoon meeting" which is a newsroom-style brainstorming session with multiple departments. The most talked-about item in the meeting is the recent story of a U.K. student finding what appeared to be a brain in his meal at KFC. In my world, it would be just as disturbing to find a breast, thigh, wing, or any other body part.
3:30pm: Time to finalize our 2013 NYFW (NY Fashion Week) plans with our Special Projects, Campaigns, and Communications departments. I'll give you the inside scoop: We've teamed up with a world-famous ad agency for an unforgettable video that will make you think twice about wearing fur.

Tuesday, January 8
9:00am: I review some photo options for an upcoming vegetarian celebrity campaign featuring the gorgeous Maggie Q.
12:00pm: My noon meeting has just been canceled. I'm secretly jumping for joy because this means I have an extra hour to get some other projects done. I use this time to post this week's new recipe for vegan lasagne. Good thing I already ate lunch, because otherwise I'd be hungry.
2:00pm: Excitement fills the office as our first victory of 2013 is announced! Earlier this week, a representative from United Airlines phoned PETA to say that the airline will no longer transport primates for use in experiments anywhere in the world! In order to ensure that animal experimenters get the message loud and clear, United even posted the new policy on its website, and it leaves no one in doubt: The airline "do[es] not book, accept or transport primates to or from medical research facilities."
2:30pm: I review a new contest on PETA's website for PETA ties from Jaan J. They come in a variety of colors and styles (each featuring a different animal), and we're giving away one of each! It's especially fitting because each week, the guys of PETA's office celebrate Tie-Day Fridays.
2:50pm: I hear from Heather and Jenny, owners of one of my fave L.A.-based vegan companies, Spork Foods, and help coordinate some social media promos for their upcoming Meatless Monday dinner.
7:30pm: My friend Amber and I decide to have a late dinner together and head over to Angels Flight Railway for a lift. The world's shortest railroad is nothing short of magical and, for only 50 cents, is worth the journey if you're ever in downtown Los Angeles!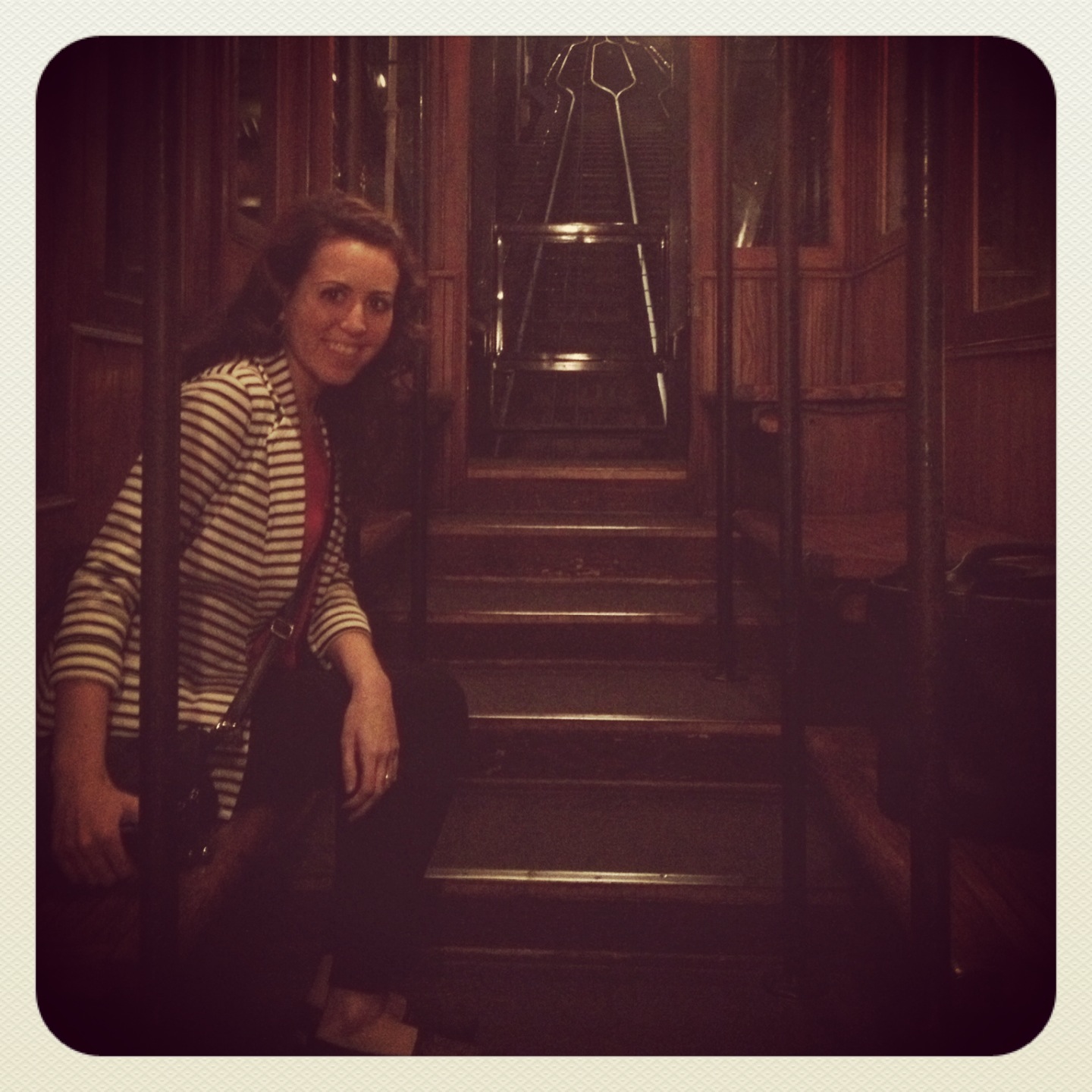 7:45pm: We've made it to Blue Cow, and we're just in time for our reservation. We're instantly in love with the ambiance of the restaurant, the exposed refurbished wood, the lighting, the jumbo pillows strewn about the booth seat -- definitely an experience unique to L.A. The menu clearly marks which items are vegan, or can be made vegan, so we decide to share an appetizer of braised Brussels sprouts, a chickpea sandwich, and an entrée of curried cauliflower and naan. For drinks, we order the P3 cocktail and Cherry Ricky Cola. It was all delicious, and I can't wait to go back.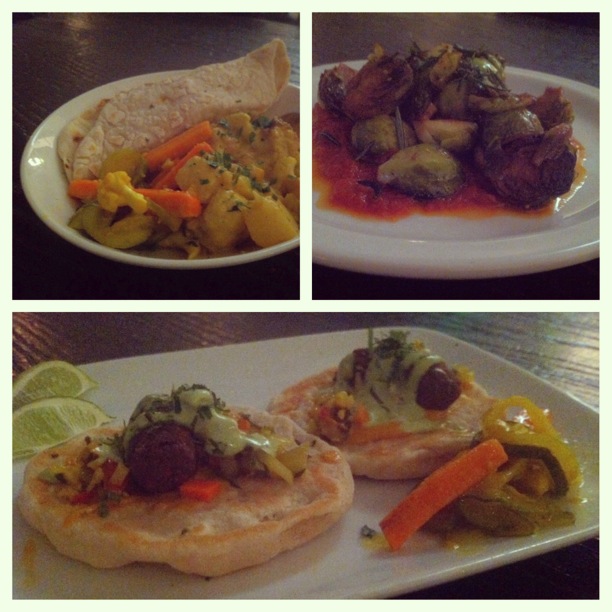 Wednesday, January 9
5:00am: Today, my heart is heavy. It was exactly one month ago that I had to say goodbye to my dear cat Gracey. It was unexpected and far sooner than I ever imagined.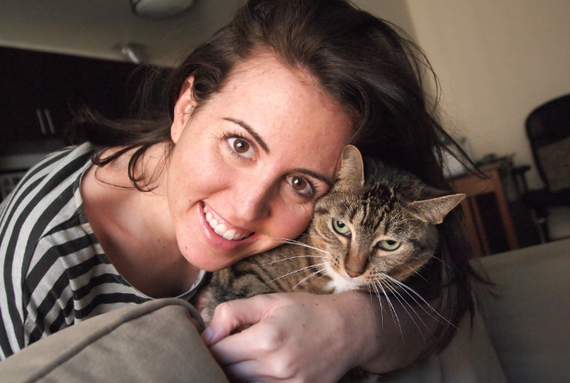 Gracey and I in 2011.
Gracey may be gone, but what she taught me will never leave: that animals are capable of more than most people give them credit for, they're individuals with desires and personalities that are as unique as they are, they're playful and curious, and they have feelings and emotions that span a spectrum as far-reaching as any human's. Days like today are what make me thankful to work at an organization like PETA. A place where the goal is to fight for all animals, not just the ones society has deemed lovable, but the slimy and squirmy and scaly animals, too -- the animals society calls "food," clothing accessories, lab equipment, and entertainment -- because all animals deserve a life of love like Gracey, but not enough of them get it.

7:15am: I take a look at a few projects to review, including an e-mail alert for our recent ad with Dave Navarro and a new 100 percent cruelty-free pledge, and help solve some technical issues with posting videos on our blog.
9:30am: I have a brief brainstorming meeting to discuss our upcoming promotion plans targeting bebe. Despite knowing about the suffering that goes into every fur hat, scarf, and coat, bebe continues to sell fur.
11:00am: It's time for our monthly Marketing Team strategy meeting. This meeting is a time when all the managers from our Marketing Department (which includes teams for content and promotions, youth, social media, e-mail, innovations and engagement) come together to discuss goals and upcoming projects. A big undertaking for our department right now is growing our mobile list and optimizing our sites for mobile devices and tablets. The reason: In December alone, 25 percent of all site visits were from a mobile device.
12:00pm: Time to meet up with our PETA Latino coordinator, Renée, and go scope out a potential location for the official launch party for PETALatino.com. The restaurant, called Mama's Hot Tamales, is an authentic Mexican restaurant not too far from PETA's office in Echo Park. Nearly their entire menu can be made vegan! Renée and I decide to try a variety of dishes to get a good feel for the quality of the food. We end up trying out the watermelon agua fresca, nopales salad, black bean tamales, tortilla soup, and tofu tostadas.


2:00pm: Back at the office, Renée and I meet briefly with our vice president of communications, Lisa Lange, to give our assessment of the restaurant. The verdict: two thumbs up!
2:30pm: Next up, I meet with one of my team members, Vanessa, to discuss plans for a future web project to showcase our Beauty Without Bunnies campaign.
3:00pm: Daily afternoon meeting time. Today we talk about the recent votes to induct players into the Baseball Hall of Fame and get to talking about our adoption ad with Nyjer Morgan.
3:30pm: I sort out some plans for our video players and make a few phone calls to our IT Department to confirm.
Thursday, January 10
7:00am: According to alarming news reports, approximately a dozen orcas have been stranded and trapped for days in the middle of the frozen Hudson Bay on the North Shore of Québec in Canada. We move quickly to inform the public about their plight.
8:00am: At PETA, every day is "Take your dog to work" day. Today, I get to meet Droogie for the first time. His guardian, Shannon, found him wondering the streets of Austin back in 2006 and they've been inseparable ever since. (If you're looking for a specific breed of dog, you should know that 25 percent of dogs at shelters are purebreds. Or check out breed-specific rescue groups to find the perfect pooch for you.) He loved the orange couches on the first floor of the office and had everyone "ooh-ing" and "aah-ing" all day. Just take a look at this face: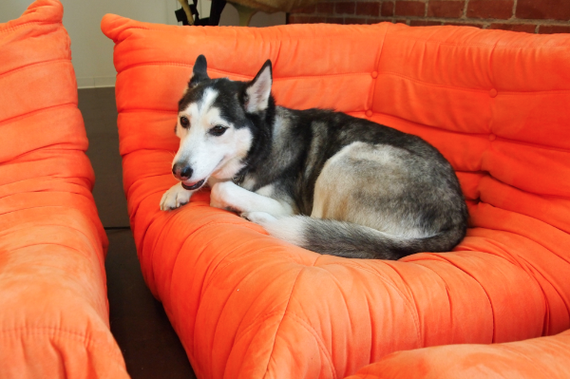 9:30am: I meet with a small group to discuss our upcoming Lifestyle content. We take a look at the schedule and see that we've got some good stuff planned for the upcoming week, including my new recipe for vegan Caprese Mac and "Cheese."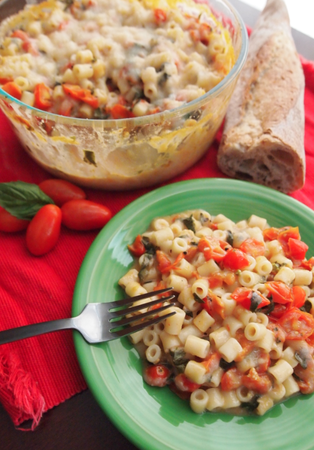 10:00am: Time for my weekly meeting with one of our talented marketing staffers, Vanessa. We chat about her upcoming projects, which includes an update to our Beauty Without Bunnies shopping guide. She's our resident cruelty-free and vegan beauty expert, so I'm excited to see how the project progresses.
10:30am: I have my weekly meeting with PETA's executive vice president, Tracy Reiman. Our agenda includes PETA's online vegan campaigns and resources, upcoming partnerships, and Marketing's new seating arrangement.
12:00pm: Hunger starts to creep in, and I join my fellow marketing managers, Christine and Helena, and walk to one of our favorite lunch spots: Xoia, a local Vietnamese eatery. We order up our "usual" without even glancing at the menu. Before we know it, three huge bowls of vegetarian curry noodle soup are sitting in front of us.
2:00pm: I meet with our celebrity marketing coordinator Monica, along with Michelle Cho, PETA's associate director of communications, and special projects coordinator Amber to discuss our celebrity campaigns. We take a look at our most recent campaigns, discuss how we can streamline the process, and make plans for future projects. It is a great discussion, and everyone leaves feeling confident about the future of our celebrity outreach and online promotions.
Celebrity outreach is one of the greatest ways to help spread our message. Our YouTube channel gets hundreds of thousands of views each month, thanks to the celebrity supporters' willingness to share information on everything from why they refuse to wear fur to their healthy and delicious vegan diets.
Friday, January 11
7:00am: Every Friday, there is a morning phone meeting with our Communications Department. We discuss upcoming newsworthy projects. The list is long and typically centered around celebrities. The majority of the items on the list are ideas that are still in the very early stages, and we brainstorm on potential spokespeople who would be right for each project. We cover every issue and every attention-seeking style. Some upcoming projects include hard-hitting celebrity-narrated exposés, sexy naked print ads and video PSAs.
11:00am: I leave the office and head to Pasadena for a spay/neuter demonstration. The area is beautiful and filled with shops, and it's frequented by locals and tourists alike. We've picked a high-traffic intersection to make the biggest impact.
12:00pm: Senior campaigner Virginia Fort and I are joined by an activist and two amazing interns who dress in condom costumes. Don't worry -- we tell kids that they're crayons. ;-)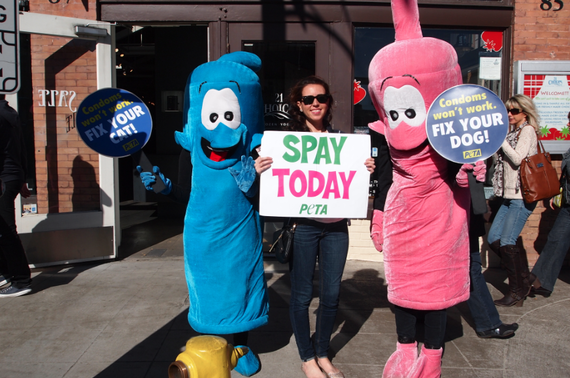 We get a great response from the public, most of whom find the costumes hilarious, and many people stop to snap a photo. We hand out hundreds of leaflets filled with information about the importance of spaying and neutering.
1:30pm: I part ways with the rest of the group and head to the west side to be on Sam Simon's weekly radio show. Sam is a Hollywood A-lister, who's produced hits like The Simpsons, Taxi, and The Drew Carey Show.
2:40pm: I arrive at Sam's beautiful home in the Pacific Palisades, and I'm excited to hear that there will be several guests on today's show, including Mercy for Animals' Ari Solomon, actor and activist Billy McNamara, and journalist David Kirby. [https://twitter.com/DeathAtSeaworld] Actor Jennifer Tilly plays our "studio audience."
3:00pm: The show starts right on schedule. We're able to talk about some of PETA's recent victories, including these two:
• J Brand Jeans pulls all fur from its website and stores.
• United Airlines stops transporting primates to labs for use in experiments.
We also discuss the importance of adopting animals rather than buying them, the cruel dairy industry, ag gag bills, and our hope that we will see an end to the use of orcas at marine parks such as SeaWorld. Then, before I know it, the two-hour show is over!
See more Food Informants below:
PHOTO GALLERY
Food Informants