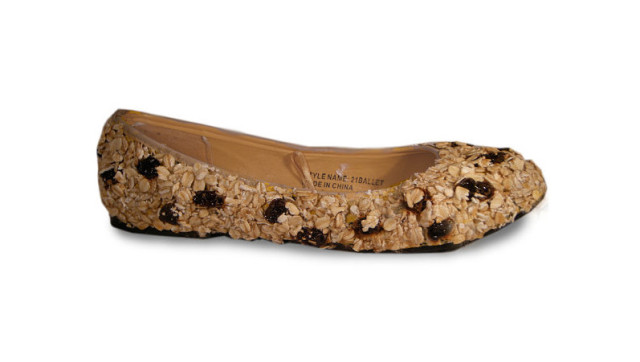 Whatever you do, don't eat the shoes. They might look as good as an oatmeal raisin cookie, but these ballet flats are not edible.
There are not many instances where you have to be warned against eating your fashion accessories (aside from the case of this beautiful real fruit jewelry), but when it comes to oatmeal raisin ballet flats we think this note of caution is necessary. These shoes look good enough to eat -- especially to all those oatmeal cookie fans -- but the glue and seal that keep the ants away also ensure that the shoes taste nothing like a cookie. Instead, just wear these flats to show your love for oatmeal raisin.
These made-to-order ballet flats are designed by Merlo Designs for the serious cookie lover (especially since they'll cost you $124). If you like oatmeal cookies, but can't stand raisins, the designer will substitute with chocolate chips (yes!) or craisins. Nuts are also available upon request.
If you're not into flats, Merlo designs also offers heels covered in colorful sprinkles. They're equally amazing to the oatmeal raisin flats.
Want to read more from HuffPost Taste? Follow us on Twitter, Facebook, Pinterest and Tumblr.
Check out this beautiful real fruit jewelry.
PHOTO GALLERY
Real Fruit Jewelry On Etsy
BEFORE YOU GO