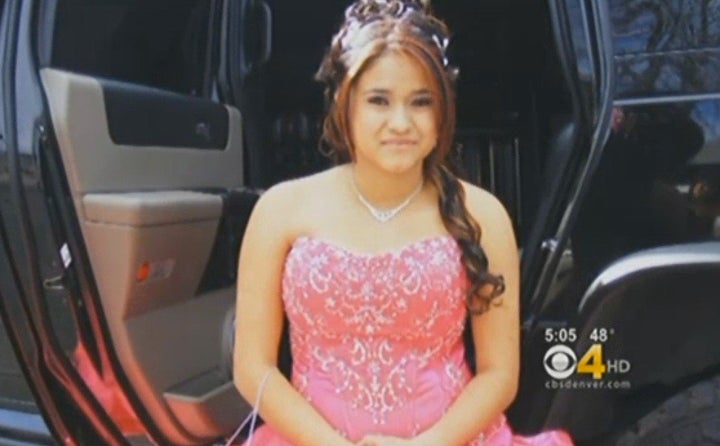 Jurors heard grisly details on the first day of a trial for a man who allegedly shot and dismembered an underage girl at a party he threw in 2010.
Prosecutors in Denver allege that Edward Romero killed 16-year-old Alicia Martinez and tried to dispose of her remains in his grandmother's home even as he pretended to help her family look for the missing teen.
The defense for Romero, 27, has entered a not guilty by insanity plea, according to KUSA. They claim that Romero has a dissociative disorder that causes him to occasionally blackout and loses track of what's happened.
In this horrific case, Romero came to and found himself alone with the dead, naked body of Martinez on a couch in the garage, his public defender Arnold Beckman said, according to KMGH.
Using his powers of deduction, Romero concluded that he must have killed Martinez -- though he didn't know how or why -- and chose to conceal her death, Beckman said.
The prosecution disagrees with the psychiatric assessment of Romero. They acknowledge he's mentally ill, but they argue he knows the difference between right and wrong, the Denver Post reported.
Two of Romero's friends testified about the slaying on Wednesday. The Denver Post reported that his former girlfriend Francesca Pagliasotti who lived with him testified that when she came home late the night after the party had broken up, Romero told her "I did something bad."
Before explaining what he'd done, Pagliasotti said she had to promise not to scream. He then led her to the garage where the dead teen lay.
To help him cover up the crime, she brought garbage bags into the garage. When she returned, Martinez's arms had been hacked off and Romero was allegedly in the process of chopping off her legs with a machete.
All the while, Romero with Pagliasotti's help was bleaching the floor and searching for bullet casings. Romero allegedly tried reducing Martinez's remains in a blender and flushing parts down the toilet, KCKC reported.
Deputy District Attorney Henry Cooper said Romero "cut, dismembered, de-skinned and mutilated the body to where she was barely distinguishable as a human being."
Romero's friend Manuel Gonzales, who'd been at the party, also testified that Romero told him about killing Martinez.
After getting a tip about the missing teen, police questioned Romero. He denied any wrongdoing and even accompanied her family to a precinct to answer questions.
But when cops returned with a search warrant, they allegedly found a plastic tub in his home containing pieces of the girl's body.