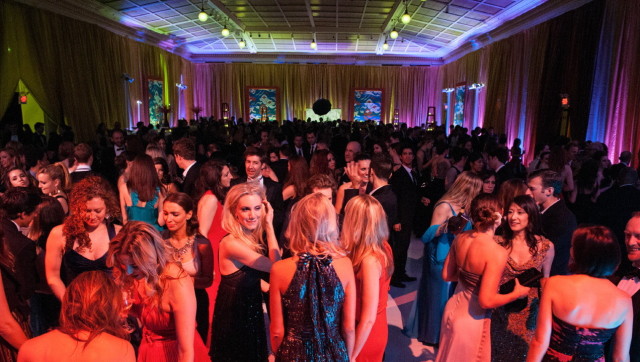 "It's rare for me to be here mid-week," said House Minority Leader Nancy Pelosi at the San Francisco Ballet Opening Night Gala on Thursday night.
But when America's oldest ballet company celebrates its 80th season one night after the opening of the country's only stand-alone jazz center in the same city, even Madam Speaker can make an exception.
On Thursday night, the San Francisco's War Memorial Opera House was alive with a crowd that included socialites, dancers and San Francisco's avant-garde at the ballet's gala and performance. Guests could also spot a few famous faces including George Lucas, Larry Baer, Dede Wilsey, Joy Bianchi and Wilkes Bashford.
Once the curtain rose, a worldly selection echoed the theme of the evening: "Moving the Compass," a nod to the company's international partnerships.
"[Artistic Director Helgi Tomasson] talked about bridging the globe through the universal language of dance," explained gala chairwoman Deborah Taylor to the San Francisco Chronicle. "So that's where we wanted to go with the theme.
Indeed, the program included works by German, Russian and French composers, as well as by the company's own Helgi Tomasson. Instead of a full-length ballet, the performance featured a collection of 11 energetic vignettes.
"It showed tidbits from each of the shining stars of the company," said attendee Katya Shkolnik. "The snapshots of the artists' strengths were really exciting."
Sure highlights included a gorgeous pas de deux from "After the Rain" by Yuan Yuan Tan and Damian Smith, a lively duet from "The Flower Festival at Genzano" by crowd-pleasers Clara Blanco and Gennadi Nedvigin, and the world premiere of Myles Thatcher's modern "In the Passerine's Clutch" -- a true showcase of athleticism by Dores Andre, Dana Genshaft, Joan Boada and Jaime Garcia Castilla.
Patrons held up traffic on Van Ness during the mass exodus from the opera house to the after party at City Hall, and the rotunda was soon filled with tuxedos and gowns. (If the party was any indication, red is the color of the season.)
A flash mob set to will.i.am's "Scream and Shout" led guests onto the dance floor, and sushi, cheese and dessert stations offered much-needed refuge from the ever-flowing prosecco. Dancers filtered in later in the evening, dressed stylishly in suits and gowns.
Check out pictures from the gala, courtesy of Drew Altizer Photography, in our slideshow below:
PHOTO GALLERY
San Francisco Ballet Opening Gala
BEFORE YOU GO