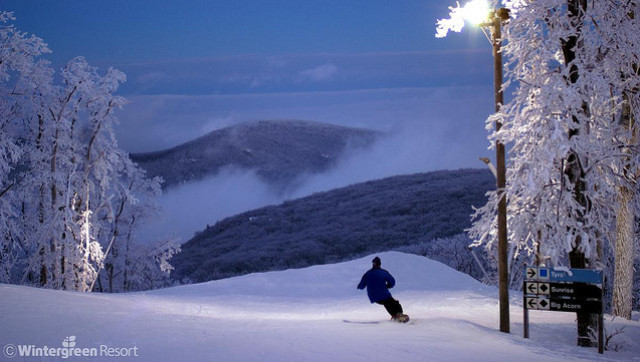 Ski resort operators and farmers have a lot in common, Kenny Hess said.
"We're snow farmers," said Hess, director of sports and risk management at Massanutten.
"That's what we do," he said. "We're like farmers raising corn. Some years we don't get a good crop, some years we do. When we get a good snow crop, we have to be ready to take advantage of it."
Hess doesn't mean snow has to fall on the slopes of his resort in Rockingham County east of Harrisonburg.
All a ski resort needs is conditions that allow snow-making machines to produce and sustain a good ski surface -- not that the occasional natural snow isn't appreciated.
The snow crop didn't start particularly well for Virginia ski resorts during this heretofore mild winter.
This week has been different, bringing a cold snap, a blanket of powdery snow over much of the state and the possibility of more on the way. Things are looking up for ski resorts.
And, as Hess pointed out, even with the slow start, this season has been better than the previous winter for the state's ski resorts. This week, he said, is the first in a season and a half that has offered really ideal snow-making conditions.
At The Homestead, near the West Virginia border in Bath County, the skiing season so far has improved markedly over the previous winter. Recreation Director Matt Fussell said The Homestead's December's lift-ticket sales were up 50 percent from the same month in 2011.
"We started making snow on Dec. 11 and opened for the season on Dec. 22," Fussell said. "Our lift-ticket sales have increased and our lessons have doubled compared to last year."
At the Wintergreen Resort in Nelson County, they know about tough seasons.
The resort was sold last summer in a deal worth $16.5 million. Ski revenue had lagged during the preceding warm winter, and Bank of America canceled the resort's $3 million line of credit.
The new owner, Jim Justice, who also owns The Greenbrier, said one of the first things on his to-do list was expanding the resort's snow-making capacity. He made good on his promise, investing $6 million -- half of $12 million in planned improvements -- to double Wintergreen's ability to pump out snow.
"It was a wise investment," Wintergreen General Manager Hank Thiess said. "With our equipment we can recover quickly from warm weather. We don't get that many opportunities to make snow under the best conditions, and we need to react quickly."
Thiess said the resort's 450 snow guns should have all its ski runs ready this weekend in time for what he expects will be a "hundredfold increase" over the numbers on the slopes one day last week, when fewer than 100 skiers were on hand.
Horst Locher, director of Horst Locher Snowsports School at the Bryce Resort in Shenandoah County, said the resort is taking advantage of good snow-making conditions.
When the temperature is in the high 20s, Locher said, "it takes more compressed air to disturb the water particles. When it's in the mid-teens, you can make 40 percent more snow."
His said Bryce is putting down "a base of 2 or 3 feet ... so compact that it takes a long time to start melting. We'll have good conditions for weeks now."
He said he expects thousands to take to the slopes at Bryce this weekend.
Massanutten's Hess said his resort expects up to 10,000 skiers, snowboarders and snow-tubers today through Sunday.
Wintergreen's Thiess pointed out that it's a bonus to have a ski-weather weekend when there's no NFL playoff action -- the off-week leading up to the Super Bowl.
The revenue should roll in at the resorts.
At one resort, eight-hour adult lift tickets go for as much as $72 for day-trippers. Then there's equipment to be rented, lessons to be purchased, food and beverages to be consumed and paid for.
Other activities are available for non-skiers or skiers looking for variety. Massanutten, for instance, boasts an indoor water park.
While snow from the sky is welcome and can be a marketing tool, the resorts say timing can be very important. A big snowstorm on Friday, for example, can render highways nearly impassable and ruin an otherwise ideal weekend.
In Virginia, Thiess said, Tuesday is the ideal day for a significant snow. By the weekend, roads are clear and skiers who aren't already at the resort don't worry about whether they can make the trip.
Jan Gills, a western Hanover County resident whose family has enjoyed skiing for years, said Virginia is a state of spur-of-the-moment skiers. Trips planned long in advance, she said, can be spoiled by unseasonably warm weather.
"It's a combination of free time and the right conditions," Gills said.
She said that in a still-pinched economy many families have more to consider than the condition of the slopes and whether roads are clear.
"You have to decide what you can afford," she said. "I hope that as the economy improves, Virginia can sustain skiing, that more families will be able to go and enjoy it. It's a great sport."
rhallman@timesdispatch.com
(804) 649-6844 ___
BEFORE YOU GO
PHOTO GALLERY
10 Places To Ski Like An Olympian