The little rover that could has been working the graveyard shift. NASA's Curiosity rover has taken its first pics of Mars at night.
The ultraviolet and white-light images--snapped by the rover's Mars Hand Lens Imager (MAHLI) on Jan. 22--spotlight a Martian rock NASA calls "Sayunei." According to the space agency, the rover's front-left wheel had scuffed the rock to provide dust-free materials to examine.
"The purpose of acquiring observations under ultraviolet illumination was to look for fluorescent minerals," MAHLI principal investigator Ken Edgett, of Malin Space Science Systems in San Diego, said in a written statement. "The science team is still assessing the observations. If something looked green, yellow, orange or red under the ultraviolet illumination, that'd be a more clear-cut indicator of fluorescence."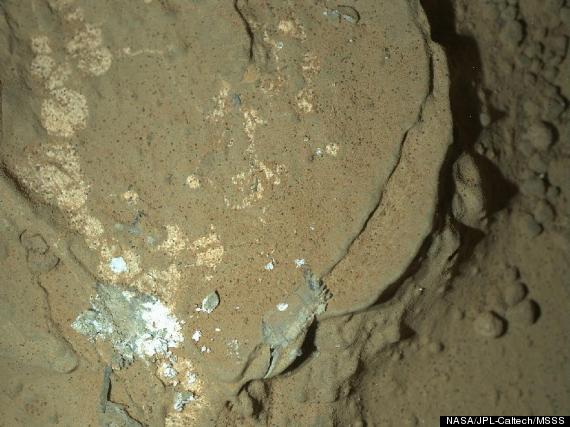 The Martian rock "Sayunei," illuminated by white-light LEDs (light emitting diodes), is part of the first set of nighttime images taken by the MAHLI camera on NASA's Mars rover Curiosity in the "Yellowknife Bay" area of Mars' Gale Crater.
These nighttime photos were taken near where the rover team plans to soon use Curiosity to drill into Martian rock. Drilling would allow further study of the Red Planet's mineral and chemical makeup.
BEFORE YOU GO
PHOTO GALLERY
Mars Rover Curiosity Images