We've reached our Beyonce limit. Between her racy GQ cover, Super Bowl halftime show hype, upcoming HBO documentary "Life Is But A Dream" and the Presidential Inauguration lipsync-gate, we've got Bey fatigue.
But if you haven't tired of the superstar's relentless media blitz, then you'll definitely want to check this out.
The 31-year-old is launching a new eau de perfume or we should say, eau de Big Apple. For Bey's fifth scent, Pulse NYC, the singer pays homage to her new hometown with a sleek bottle that looks like a building made for Gotham City and a fragrance for a woman who is "impossible to ignore, exuding sensuality and strength."
"I thought that now that I am a New Yorker and I've learned about how I can accomplish anything in this city, I felt it was an appropriate energy for the new fragrance," Beyonce shares on a behind-the-scenes video from the campaign's photo shoot.
For the official ad images, which were art directed by ELLE magazine's Joe Zee, Beyonce naturally used New York's famous skyline to highlight the new scent. However, it's hard to notice the Empire State building when Bey's standing right next to it in a mirrored-glass encrusted mini dress looking like a sexy human skyscraper.
At the end of the BTS video, Beyonce proudly shows off the sleek, metallic blue hued bottle and jokingly says, "As you can see, it's my favorite color. I wonder what that is?"
Yeah, yeah -- we get it. Blue, as in Blue Ivy. OK, no more Beyonce (at least until Sunday).
Here's a look at Bey's Pulse NYC ad and the behind-the-scenes video above.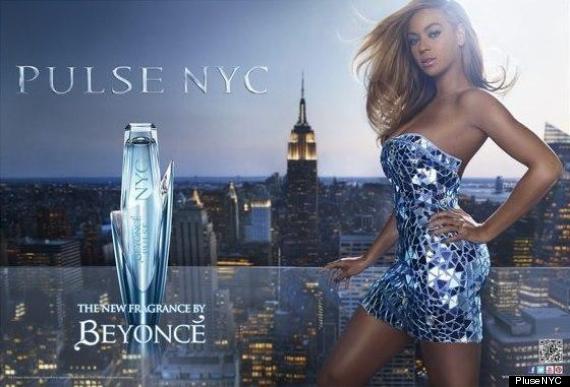 BEFORE YOU GO
PHOTO GALLERY
Beyonce's Style Evolution